One of the things that lots of us really miss when we're trying to lose baby weight can be the occasional Friday night takeaway. Asian foods like Chinese and Thai are always delicious, but it's not always easy to find something on the menu that is low fat and healthy. So making your own version is an excellent way to satisfy your taste buds, without derailing your healthy eating plan. This recipe does just that – Joanne Clapp has sent in her recipe for sweet and sour chicken with brown rice – DELISH!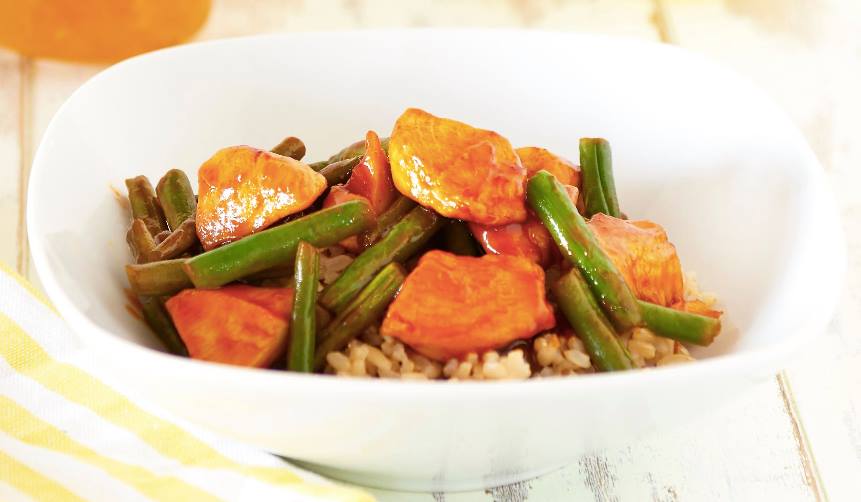 The chicken is a wonderful source of low fat protein, so it helps keep you feeling full at the same time as building lean muscle mass. You can bump up the vitamin and mineral content of the dish by using lots of bright, fresh veggies in the stir-fry too – Joanne has opted for carrots, capsicum, cauliflower, broccoli, mushrooms and snap peas – a really varied combination.
Aside from the tasty Asian flavours, and fresh, crunchy veggies, another ingredient that really makes this dish stand out as a healthy recipe is its use of brown rice. By making the simple switch from white to brown rice, you might help prevent heart disease and colon cancer, lower bad cholesterol and maintain a healthy nervous system and bowel. Packed with healthy dietary fibre, brown rice is also a great source of manganese, potassium and magnesium, as well as the crucial B vitamins that it can be hard to get form diet alone. It also has a much lower GI than white rice, so it will keep your blood sugar levels stable for much longer. Brown rice requires a longer cooking time than white rice, but is a healthier and less processed option. It has a slightly different texture, but once you've made the switch it's easy to see why so many people use it as their wholegrain of choice. It's also great to mix with quinoa to give it that extra boost of protein.
Ingredients
550g tin pineapple chunks in juice
400g lean chicken
1 red capsicum
1 green capsicum
3 tbsp. rice wine vinegar
2 tbsp. low sugar ketchup
2 tbsp. soy sauce
2 tbsp. oil
2 tbsp. minced ginger
1 tbsp. minced garlic
2 tsp. corn starch
Directions
Dice the chicken into chunks. Slice the peppers in half, remove the seeds and pith and thinly slice the flesh into strips.
Drain the pineapple. Reserve about 60ml of the juice and whisk with the vinegar, ketchup and soy sauce. Pour 3 tbsp. of the sauce over the chicken and leave to marinade for up to 30 minutes. Add the corn starch to the reserved sauce and whisk until smooth.
Heat half the oil in a large skillet or wok. Add the chicken and fry until golden brown, around 7-10 minutes. Tip from the pan and set to one side.
Heat the rest of the oil in the same skillet. Add the ginger and garlic and cook until fragrant, then add the capsicums and stir well. Cook for a couple of minutes until tender.
Add the sauce and cook until thickened, then add the cooked chicken and pineapple and cook until heated through. Serve immediately.
Recipe serves: 4. Calories: 355.