It's the time of year when it can be tough to say no to all the delicious comfort foods that you're used to eating when the days are shorter and colder. But lots of the meals that we associate with winter warmth are also the biggest contributors to the winter waistline, so can hold you back when you're tying to lose baby weight and stay on track with your weight loss goals. So alternative healthy recipes for some of your classic favourites are a great way to make sure you're eating low fat, nutritious meals, and are an excellent addition to any of the Lose Baby Weight plans.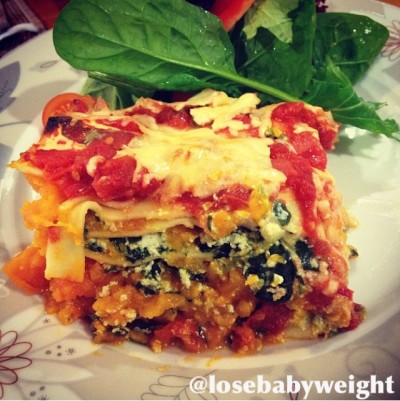 That's why today's winner is @melajoe for her take on a lasagne – she's replaced the meat and the bechamel sauce with a much lighter mix of spinach, pumpkin and risotto, and the result looks divine! By utilising spinach and pumpkin, you're maximising your vitamin and mineral intake, ensuring that your meal is packed with vitamin B from the pumpkin and iron from the spinach. And replacing your standard cheese inclusion for low fat ricotta cheese ensures you get optimum flavour but in a much healthier format.
To make your own version, steam some pumpkin until it's soft and then roughly mash to your preferred consistency. Brown some onion and garlic in a pan (and add a handfull of chilli if you like your lasagne to have a bit of a kick) and then add a tin of crushed tomatoes, simmering until it's reduced a little. In a separate bowl, combine a tub of ricotta cheese with some fresh spinach, and season to taste. Grease your casserole dish, and begin layering your ingredients, alternating between a layer of pasta, a layer of pumpkin, a layer of spinach and cheese and another of pasta. Pour your tomato sauce over the final layer of pasta sheets, and finish off with a fine dusting of parmesan cheese. Bake for as long as the pasta requires. If you're trying to avoid pasta or gluten, you can easily replace the lasagne sheets with slices of eggplant or zucchini – a great way to really ramp up the nutrition!
So congratulations @melajoe, you are today's winner of the Lose Baby Weight daily Instagram competition – the Lose Baby Weight prize pack consisting of 1 x 28 day diet & exercise plan, 1 x healthy mummy smoothie and 1 x Tracy Anderson Mat Work out – all worth $100 is winging its way to you!
And don't forget you can enter to WIN THIS PRIZE PACK A DAY EVERY DAY in JUNE – it's SO EASY TO ENTER, just follow us on Instagram – @losebabyweight and upload your daily healthy recipe photo to #losebabyweightrecipes T&C's are here.
PLUS don't forget we have our Winter Weight Loss Challenge on in June too – we have 15% off products and plans, $3,000 in Myer vouchers up for grabs and all the help and support to help you lose weight this winter! Find out more here.