Getting a healthy, filling breakfast before starting the day is one of the best ways to make sure you're on track to eat well throughout the afternoon and help keep hunger at bay throughout the morning. Traditional porridge has always been regarded as an excellent breakfast choice, as it's filling and nutritious and you can adapt it to include your favourite flavours, milks and spices. But making use of quinoa instead of standard porridge oats is an amazing way to boost the nutritional value of your breakfast, and is a great way to get an extra serve of protein – exactly what you need to build lean muscle mass and stay fuller for longer, and an incredible breakfast to incorporate into one of our Lose Baby Weight plans. Quinoa is also a seed and not a grain, so is much easier to digest for most of us. It's also low GI, which means it won't cause your blood sugar levels to spike, it's gluten free, and also high in dietary fibre – an absolute super food!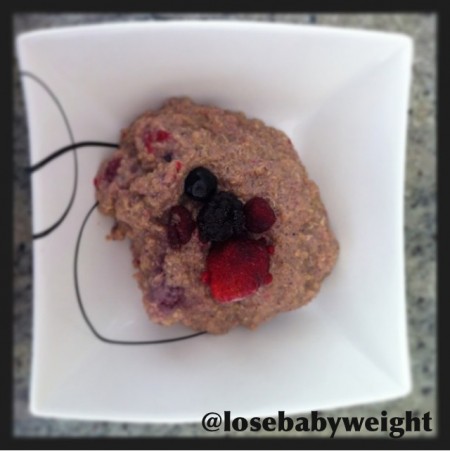 So today's winner of the daily instagram competition is Tiffany (@tiffany181187) for her healthy eating quinoa porridge with mixed berries. To make your own, you cook the quinoa similarly to how you would cook your traditional oats – just make sure you rinse the quinoa thoroughly before cooking, as it can end up tasting a little bitter otherwise. Choose your favourite milk – almond or rice milk are great alternatives if you don't drink dairy milk – and use double the amount of milk to quinoa (half a cup of quinoa to one cup of milk should be a good portion for one serve). After rinsing your quinoa, bring to the boil in your milk, and simmer with the lid on until the grains go translucent – it should take about 15 minutes. Adding a dash of cinnamon is also a good way to give your quinoa porridge a healthy boost, as cinnamon is known to give your metabolism an extra boost, and keep you burning energy long after you've eaten – a great way to make this an even more healthy recipe. Once the porridge is cooked, simply add your favourite fruit and nuts – mixed berries, bananas and walnuts are a tasty addition – and add a half teaspoon of honey if you like your porridge a little sweeter.
A tasty, healthy breakfast like this will leave you feeling full long after you've finished eating, and is a great dish to help you slim down fast. So congratulations to today's winner – the Lose Baby Weight prize pack consisting of 1 x 28 day diet & exercise plan, 1 x healthy mummy smoothie and 1 x Tracy Anderson Mat Work out – all worth $100 is winging its way to you!
And don't forget you can enter to WIN THIS PRIZE PACK A DAY EVERY DAY in JUNE by following us on Instagram – @losebabyweight and uploading your best healthy recipe photo to #losebabyweightrecipes T&C's are here.
PLUS don't forget we have our Winter Weight Loss Challenge on in June too – we have15% off products and plans, $3,000 in Myer vouchers up for grabs and all the helps and support to help you lose weight this winter! Find out more here.