One of the best ways to lose baby weight is by making sure you're eating low fat and high protein meals throughout the day – especially at breakfast, as this will start you out on a good track for the rest of the day. If you've used a healthy recipe for breakfast, you're much less likely to snack on junk and undo all of your hard work. And today's winning recipe will help you do exactly that. This three egg white frittata, entered by Billie Ali (@degree4display) is packed full of healthy ingredients. Plus, going for a frittata that uses only the egg whites (as opposed to the whole egg) means it has a much lighter taste so it won't leave you feeling heavy. An excellent breakfast or lunch option to use on one of the Lose Baby Weight Plans, this is a brilliant and healthy way to make the most of the ingredients you have in your fridge, and combine it all into a tasty and nutritious meal.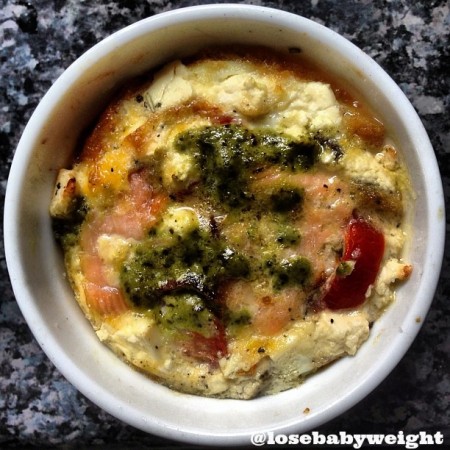 To make your own 3 egg white frittata, slice some onion for flavour and brown off in a pan. Whisk together your egg whites and season to taste. Add a couple of tablespoons of water, as this will turn into steam in the oven and help your eggs rise creating a lighter texture. Grab your favourite ingredients – some feta cheese and spinach will add buckets of flavour, and we love Billie's version with smoked salmon and a drizzle of pesto – delicious! Make sure you grease your ramekin or baking dish, and then add your egg white mixture and bake for about 10-15 minutes until the eggs are set.
So well done to Billie Ali (@degree4display), your three egg white frittata is today's winning instagram and the Lose Baby Weight prize pack consisting of 1 x 28 day diet & exercise plan, 1 x healthy mummy smoothie and 1 x Tracy Anderson Mat Work out – all worth $100 is winging its way to you!
And don't forget you can enter to WIN THIS PRIZE PACK A DAY EVERY DAY in JUNE by following us on Instagram – @losebabyweight and uploading your best healthy recipe photo to #losebabyweightrecipes T&C's are here.
PLUS don't forget we have our Winter Weight Loss Challenge on in June too – we have 15% off products and plans, $3,000 in Myer vouchers up for grabs and all the helps and support to help you lose weight this winter! Find out more here.