Sent in by Kathryn Loef
I don't know about you, but I love coleslaw! However, I mostly avoid it, because although its based on delicious vegetables, its often filled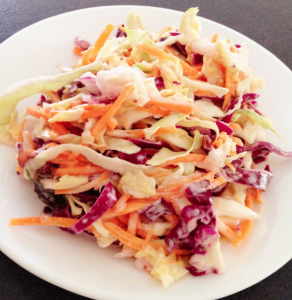 with fat and sugar so is not great for a healthy eating plan or if you are trying to lose your pregnancy weight gain.
So recently I decided to try and make a healthier version, without losing the taste.
Ingredients:
1/4 head of green cabbage
1/4 head of red cabbage
1/4 head of wombok (Chinese cabbage)
3 large carrots
Dressing:
1 cup of low fat whole egg mayonnaise
2/3 cup of low fat milk
2-3 tblsp of white vinegar
1/4 cup of Natvia (natural stevia sweetener)
Juice of 1 lemon
1 tsp of garlic powder
Salt and Pepper to taste
Directions:
1. Finely shred each cabbage into thin strands, no longer than 10cm.
2. Julienne the carrots, keeping the skin on to retain nutrients. A V-Slice or Mandolin Grater makes this super quick and easy
3. Mix all vegetables together in a large bowl.
4. Mix mayonnaise, milk, 2 tblsp of vinegar, Natvia, garlic powder and half of the lemon juice in a jug until smooth.
5. Taste dressing and add remaining vinegar, lemon juice as needed. Season to taste.
6. Mix dressing through vegetables and let it sit for a few hours. This will soften the vegetables a little bit and allow them to soak up all of the flavour.
Done! Eat and enjoy. This recipe easily serves 6.