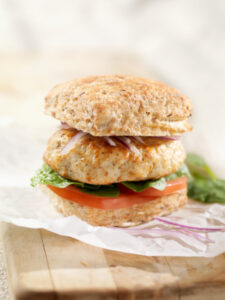 I don't know about you, but I absolutely love a good burger. There's something about the way all the ingredients combine in a really good burger pattie that just tastes delicious.
The common misconception when it comes to eating for weight loss, is that foods, like burgers, are off the menu. People generally seem to think that healthy food can't include things like burgers or pizza.
While popping out to your local drive through or takeaway and ordering a quarter pounder certainly isn't going to help you achieve your weight loss goals, nutritious, homemade alternatives are not only delicious but also weight loss and diet friendly.
It all comes down to the ingredients you choose to use and, almost more importantly, the ingredients your choose to leave out. By making foods like burgers yourself, in your own kitchen, you are able to control exactly what goes into those delicious patties along with what you sandwich between the two halves of your (multigrain) bun.
Commercially or mass produced burgers are often filled with less than nutritious ingredients like artificial thickeners, colours and flavours. The veggie content is way down and the salt and sugar content is through the roof. If we switch this around however, and pack our burgers full of fresh veggies, lean meats, herbs and spices, we cut out the nasties and are left with a weight loss friendly, totally delicious meal.
Burgers are also a great way to add extra greens to your diet. We can sometimes struggle to get our five servings of vegetables in a day (or at least I sometimes struggle!) and those with young children may also find themselves trying to up their kids intake, without much success. Adding a colourful range of grated goodies to your burger patties is a great way to get a couple of extra serves, and makes the patties taste even better.
These burgers combine lean chicken mince for protein, anti-inflammatory powerhouse garlic, diced onion, grated carrot zucchini and shredded spinach for a bit of colour and coconut cream for a hit of good fats and flavour. We served these burgers with a multigrain toasted bun with baby spinach, lettuce leaves and tomato but you can mix and match your toppings, depending on what you have handy.
Enjoy!

Ingredients
500g lean minced chicken

1 small onion, diced

1 red onion, chopped

1 clove garlic, crushed

1 carrot, grated

1 zucchini, grated

2 cups baby spinach, shredded

1.5 tbsp coconut cream

2 tsp ground cumin

2 tbsp olive oil

4 multigrain buns, lightly toasted

1 cup mesclun leaves, washed

1 tomato, sliced
Directions
Place chicken, garlic, brown/white onion, veggies and spices in a mixing bowl.

Use hands to combine all ingredients well.

Add coconut cream to the bowl (ensure that you shake/mix the coconut well before adding as the cream and oil will separate in the can).

Use your hands to form patties. This mix should yield between 8-10 patties, depending on how large you make them.

Heat 1 tbsp of olive oil in a frypan over medium heat.

Add first batch of patties and gently fry on both sides till golden.

Remove first batch from the heat and allow to rest on absorbent kitchen paper.

Add second tbsp of olive oil to the pan and repeat with the second batch of patties.

When completed, assemble burgers using buns, lettuce, spinach, tomato, red onion and patties.
Makes 4 serves – Cal per serve – 318