Losing pregnancy weight
doesn't automatically mean you have to eat salads all the time and miss out on hearty meals.
Filling, warming dishes like stews and casseroles can still be enjoyed in a
healthy eating plan
 but require care with preparation and ingredient choices.
This healthy, filling recipe for Chilli Con Carne is made with lean beef and is packed with vegetables for a good dose of fibre, vitamins and minerals.
While many other Chilli Con Carne recipes are loaded with calorie-dense ingredients like sour cream and high-fat cuts of meat, this one focuses on lighter, leaner ingredients.
Good for freezing for up to two months, this recipe is a great one to make in advance and keep in the freezer for those hectic days where you don't have time to prepare a full meal from scratch.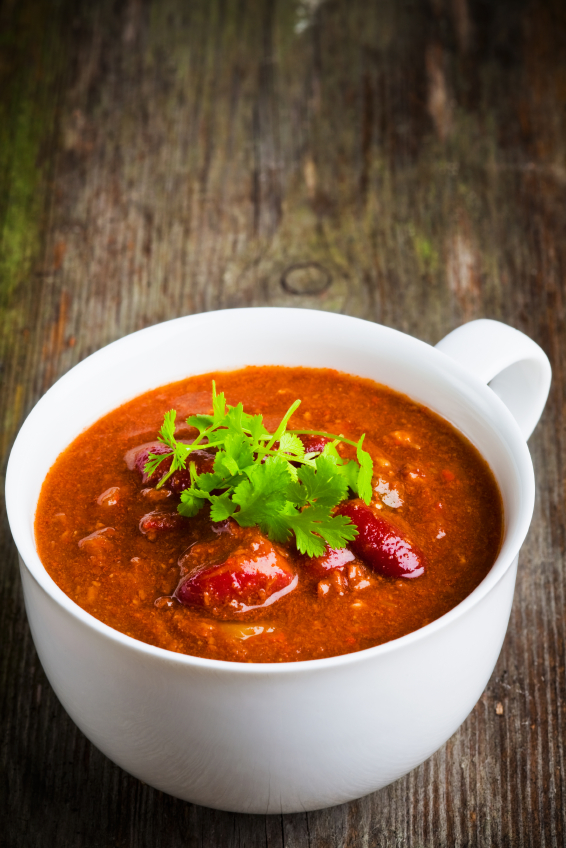 Ingredients:
2 tablespoons olive oil
1 large onion, finely chopped
2 garlic cloves, crushed
500g lean beef mince
2 x 400g cans of diced tomatoes
Half a cup of warm water
1 x red capsicum, diced
1 x 400g canned kidney beans, rinsed, drained
4 sprigs of coriander
1 tablespoon of chilli flakes
Optional Extras:
Top with diced avocado
Use fresh chilli instead of chilli flakes
Serve with grated low fat cheese on top
Method:
Heat oil in a large saucepan then add onion, capsicum and garlic and cook for 4 minutes or until the onion becomes translucent.
Add mince and brown for a further 4 minutes, breaking up with a wooden spoon.
Stir in diced tomatoes, water and chilli flakes.
Bring to the boil over medium heat, then reduce the heat to medium and simmer partially covered for 20 minutes.
Add the beans, then simmer for a further 4 minutes.
Serve in bowls, topped with sprigs of fresh coriander.
Serves: 4. Calories per serve: 364.