It can be a nightmare trying to find a birthday cake for your little one's big day – most shop-bought cakes are full of sugar, fat, salt and all sorts of other preservatives, so the best way to ensure that your little one gets the best and healthiest cake for their big day is to make it yourself.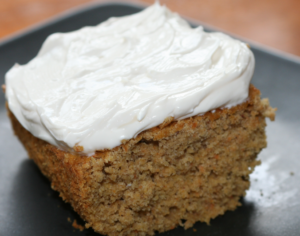 There are plenty of healthy cake recipes out there – and if you are looking for a different take on a sponge cake that is a little bit healthier then here's our take on a healthier cake, perfect for a birthday – or a special occasion, with no sugar and very little fat.
Carrot & Apple Cake
Ingredients
2 ½ cups peeled, grated carrots
2 ½ cups apple juice
1 ½ cups raisins (can substitute sultanas, dried cranberries, dried apricots etc.)
2 cups wholemeal flour
½ cup wheatgerm
2 tbsp. baking powder
1 tbsp. ground cinnamon
½ cup vegetable oil
¾ cup unsweetened applesauce
4 egg whites + 2 whole eggs
Directions
Preheat the oven to 170C. Grease and line two 9inch cake pans.
Place the carrots into a pan with just over a cup of the apple juice. Simmer gently until tender, 5-7 minutes, then leave to cool. Pour the carrots along with the juice into a blender and whiz until smooth. If desired, add the raisins now and process until finely chopped, or add them later.
In a large bowl, sift together the wholemeal flour, baking powder and cinnamon. Stir in the wheatgerm. Whisk together the eggs, egg whites and oil and stir into the dry ingredients until well combined. Gradually add the rest of the apple juice until you have a loose batter – if it already looks thin, you don't need to add all of the apple juice.
Carefully fold in the carrot puree, raisins and applesauce. Pour the batter into the two prepared cake tins, then place into the oven and bake for 35-40 minutes until a skewer inserted into the centre of the cake comes out clean. Cool in the cake pans for 10 minutes then turn out the cakes onto wire cooling racks. Leave to cool before icing, if desired.
Cream Cheese Frosting (Sugar-Free)
This tasty frosting is entirely sugar free and has a yummy apple and vanilla flavour.
Ingredients
450g cream cheese
½ cup apple juice
2 tsp. vanilla extract
1 ½ tsp. unflavoured gelatine
Directions
Place 2 tbsp. of the apple juice into a saucepan with the gelatine. Leave to stand for a couple of minutes to soften the gelatine, then slowly heat the mixture until boiling. Take the pan off the heat and stir until the gelatine dissolves. Leave to cool for a few minutes.
Process the rest of the apple juice in a blender with the cream cheese, apple juice and vanilla extract until smooth. Beat in the gelatine mixture until well blended. Leave to sit for 60 minutes to set the gelatine, beat again and the use to ice the cake.
Variations
If you want a birthday cake shaped like a muffin, try using a muffin shaped tin – these tins come in two halves, one half shaped like the bottom of a muffin and one half shaped like the top, iced part of the muffin.
You can then put the cakes together and ice as normal.
You could also use the cake mixture recipe above to make muffins – it will make 12-18 muffins, or you could use it to make one smaller cake that you can frost and add candles to, with muffins for your guests to take away.
And to see some ideas for kids party food click here
Plus for more yummy cake and sweet treats recipes that are healthier than standard ones, check our our Guilt Free Chocolate Treats & Baking Book here