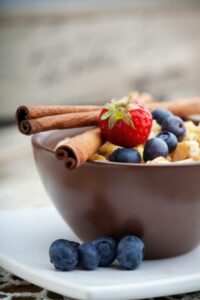 We all know how important breakfast is to start the day off right.
Not only does it fill our tummies after a long stretch of emptiness, it also helps stoke the fire of our metabolism, warming it up and getting it burning for the day ahead.
When trying to lose weight, getting the metabolism firing on all cylinders is important.
As is following a balanced diet that includes a nutritious breakfast.
Research has found that people who eat a healthy breakfast each day, tend to make better food choices and eat less overall than people who skip the first meal of the day.
An ideal breakfast contains a mix of protein and carbohydrates. The combination of these two helps us to feel both full in the tummy and full of energy.
A Healthy Mummy Smoothie (click here for some delish recipes) is a great way to start the day, providing us with the necessary protein and carbs, along with fibre, vitamins and minerals.
On those days that you fancy a change however, bircher muesli is a delicious and nutritious alternative.
The combination of rolled oats, crushed almonds, chia and yoghurt provides our bodies with a low GI, high protein breakfast.
The addition of cinnamon, purported to have metabolism boosting properties, makes this a particularly good option when following a weight loss plan.
The added bonus of a breakfast like bircher? It's prepared the evening before eating, making it a super quick and easy option for busy mornings and mum's on the go.
Enjoy!

Ingredients
2 cups of rolled oats
1/2 cup of milk (dairy, soy or almond are all good options)
2 tbsp crushed almonds (crush in a food processor, mortar or pestle or buy the flaked variety)
2 tbsp yoghurt (to serve)
1 tbsp LSA mix
1 tbsp chia seeds
2 tsp ground cinnamon
1/2 grated apple
Directions
Place oats, almond, LSA, cinnamon, grated apple and milk in a large bowl
Mix thoroughly. Cover with cling wrap and leave in the fridge overnight
To serve, spoon refrigerated mixture into bowls, top with yoghurt and sprinkle over chia seeds
You can also add the fruit of your choice before eating. Berries are a delicious addition.
Makes 4 servings – Cal per serve: 246
Need to stock up on Healthy Mummy Smoothies? Then see our shop here
And join our 28 Day Weight Loss Challenges here