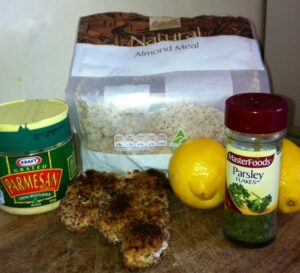 The chicken schnitzel would have to be the quintessential Aussie pub meal.
Whether it's covered in cheese and sauce or served on its own, you can usually count on finding schnitzel somewhere on the menu.
While this crumbed chicken recipe is a favourite in our household (husbands seem to give this dish two thumbs up!), it's not exactly weight loss friendly fare.
All that crumbing and deep frying adds a whole bunch of extra calories, not something you want to be doing when trying to lose weight of follow a healthy eating plan.
Schnitzel doesn't have to be off the menu though. With a few tweaks, you and the family can all enjoy yummy chicken, without the extra calories.
All it takes is a swift swap of some of the ingredients and a shift in cooking method and you're all set to go.
This version of the humble chicken schnitzel uses lean chicken breast minute steaks and replaces high GI, usually white bread breadcrumbs with nutritious, protein rich almond meal.
Parmesan and parsley are added to the coating to add texture and flavour, without the need for layers of plastic cheese and salty red sauce.
A squeeze of lemon juice sets off the flavours perfectly, with the added bonus of giving your metabolism a boost.
Serve with a side of roasted veggies and a big, leafy salad for a balanced and delicious meal.
Ingredients
4 x chicken breast minute steaks (these are the perfect thickness for schnitzel but if you can't find them, chicken breasts, sliced in half lengthways and flattened, will do the job.)
2 cups of almond meal
1 cup cornflour
2 tbsp grated parmesan
1 tbsp dried parsley flakes
1 tbsp. olive or vegetable oil
1 large, free range egg, lightly beaten
1 large lemon
Method
In a ziplock bag, combine almond meal, parmesan and parsley. Shake briskly to combine all ingredients.
Select three large dinner plates. Cover one with cornflour, one with lightly beaten egg and one with the almond meal mixture.
Trim chicken of any visible fat then coat lightly in cornflour. Shake to remove excess, then dip in egg. When thoroughly coated, place in almond mixture.
Use fingers to ensure chicken is well coated with meal, then place on a clean plate/chopping board.
Repeat with each piece of chicken. Depending on the size of your fillets/steaks you may have to add a little extra almond meal to ensure each is covered.
When all fillets/steaks are coated, place on plate and into the fridge for 20-30min. This helps the coating to adhere to the chicken properly and makes cooking easier.
When chicken has been sufficiently chilled, remove from the fridge.
Heat oil in a large frypan over high heat.
When hot, carefully place chicken into frypan. Be cautious as oil can sometimes spit when contact with chicken is made.
Cook for approximately five minutes before turning. Try to only turn fillets once as turning frequently will mean the crumb is more likely to fall off. If you want to check the progress, gently lift a corner to see underneath.
Once cooked through and golden, use tongs to carefully remove from the pan and place on absorbent kitchen paper. Place another couple of pieces of kitchen paper over the top of the schnitzel and press down to absorb any excess oil.
Before serving, squeeze lemon juice over each fillet.
Enjoy!
Makes 4 servings – 253 calories per serving
If you are ready to lose weight then the Lose Baby Weight plans offer a healthy and safe exercise and diet routine.

And don't forget to check out our current promotions and discounts page to see what specials we have on this week on our Healthy Mummy product range