'After the birth of my son 6 and a half months ago, I was ecstatic to see 15kgs melt off in the first 3 weeks.
Sadly I hit a plateau, and after 3 months I was weighing in at 82kgs with the scales going nowhere, even with breastfeeding and eating what I thought were 'healthy foods'.
I was skeptical about dieting, as feeding my son and maintaining my supply was my priority.
I saw the Lose Baby Weight plans on Facebook and decided to give the 28 Day Meal Plan a try as nothing was shifting the baby weight.
I was so excited to get started and haven't looked back since.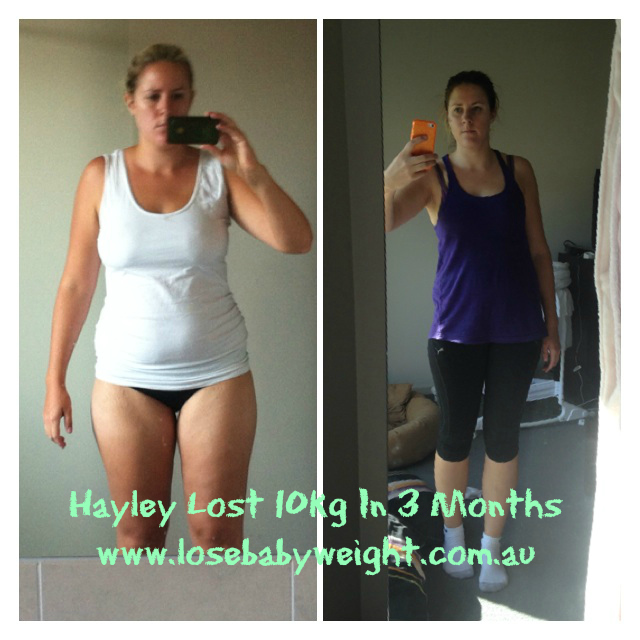 I used the 28 Day Plan exclusively for 3 months and while I've relaxed my eating a little now, your book proudly sits on top of my fridge as my bible!
I love the variety of the meals, the fact that I didn't need to think about what to have for dinner, or write a shopping list and the amounts of food I got to eat!
I learnt so much about cooking healthy flavorsome meals without the help of premade sauces and processed foods! The 28 Day Plan pizza recipe is my favourite!!!
My husband was getting jealous of my meals and insisted on eating what I was having too.
With the meal plans, and daily exercise, I've lost 10kgs in 3 months and am feeling healthier, fitter and stronger than I did before I had bubs. Thank you!!!!'
– Hayley Caling 

GET YOUR 10% DISCOUNT
If you are ready to lose weight then the Lose Baby Weight plans offer a healthy and safe exercise and diet routine and you can get a 10% discount by using code LOYALTY at the checkout
PLUS our BEST SELLING 28 Day Diet & Exercise Plan is available as an 84pg Printed Book and you can get your copy here 
Plus our NEW CALORIE BIBLE is now available – get your copy today! Only $19.95 and a must have in your handbag!
Click HERE to see our shop