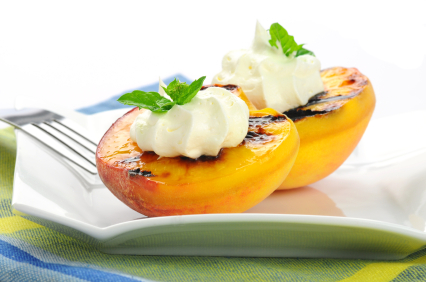 With BBQ season in full swing, here's a simple dessert idea that you can throw on to cook after your main meal.
If you've never tried grilling fruit before, you're in for a treat.
The cooking process intensifies the sweetness of the peaches and brings out their natural juiciness.
And at just 75 calories per serve, they're a perfect way to enjoy something delicious while you are trying to lose weight.
Optional extras:
Chop some pecans to throw on top
Add some vanilla bean paste to the yoghurt
Drizzle with a teaspoon of honey
Throw over some fresh blueberries or raspberries
Slice the cooked peaches up and use them in a salad
Pour over a splash of brandy for a Christmas treat for the adults
Ingredients:
4 ripe peaches
½ tsp cinnamon
Olive oil spray
4 tbsp Greek yoghurt
Mint leaves, to serve
Method:
Heat your BBQ or frying pan to med/high.
Cut the peaches in half and remove the stone.
Sprinkle the cut side of the peaches with cinnamon and then spray with olive oil.
Place cut side down on the hot grill.
Cook until charred and tender.
Serve with a dollop of yoghurt and some mint leaves.
Serves: 4. Calories per serve: 75.

GET YOUR 10% DISCOUNT
If you are ready to lose weight then the Lose Baby Weight plans offer a healthy and safe exercise and diet routine and you can get a 10% discount by using code LOYALTY at the checkout
PLUS our BEST SELLING 28 Day Diet & Exercise Plan is available as a 200pg Printed Book and you can get your copy here 
Plus our NEW CALORIE BIBLE is now available – get your copy today! Only $19.95 and a must have in your handbag!
Click HERE to see our shop