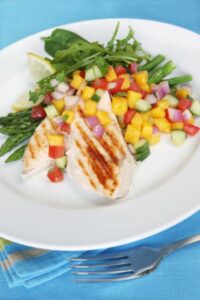 I don't know what it is it about the word 'salsa' but it just makes me think 'fresh', 'healthy' and 'flavoursome'.
It couldn't be truer than with this recipe. Not too many ingredients, but the flavour is just incredible.
We all know that grilled chicken is a great source of protein for weight loss. But mangoes also have their own sneaky benefits. They are low GI, great for digestion, and full of vitamins such as B, C and E.
This recipe would also work really well with grilled salmon, or even lamb chops.
I know what I'm having for dinner tonight!
Ingredients:
2 single chicken breasts
Olive oil spray
2 fresh mangoes, peeled and cubed
1 small red chilli, de-seeded and finely chopped
Juice of ½ a fresh lime
1 small tomato, de-seeded and cubed
1 small cucumber, cubed
½ a red onion, peeled and finely diced
Small bunch of fresh mint leaves
1 garlic clove, peeled and minced
Bunch of fresh asparagus
100g rocket lettuce
Method:
Place the mango, chilli, lime, tomato, cucumber, onion, mint and garlic in a bowl. Mix well and refrigerate to let the flavours mingle.
Spray a non stick pan with olive oil spray. When the pan is hot, add your chicken breast and cook until golden, turning half way through.
Steam the asparagus for 3 minutes or until al dente. Divide between two plates, add the rocket, chicken and the salsa. Garnish with a wedge of lemon.
Serves: 2. Calories per serve: 315.
GET YOUR 10% DISCOUNT
If you are ready to lose weight then the Lose Baby Weight plans offer a healthy and safe exercise and diet routine and you can get a 10% discount by using code LOYALTY at the checkout
Click HERE to see our shop