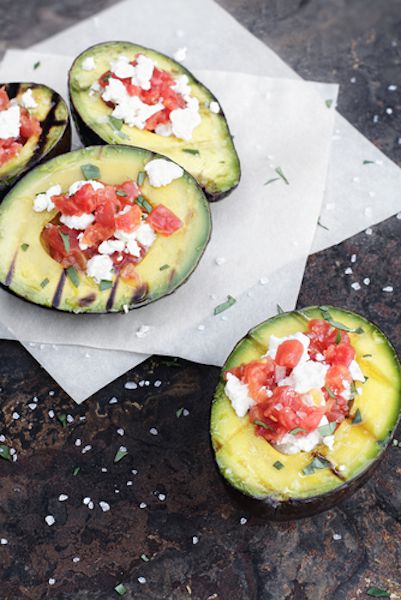 Great for an entrée at a BBQ or outdoor lunch, or even as a snack, grilled avocado is a great alternative way to enjoy this summer fruit.
There are loads of ways to tweak this healthy eating recipe:
Add chilli flakes before serving
Switch lime for lemon
Add a drizzle of balsamic vinegar
Dollop on some low fat sour cream
Add a few tablespoons of kidney beans to the mix
Throw in some finely chopped shallots
You can use a BBQ for this, or a griddle pan indoors would work as well. You want those char marks on the avocado, as it adds lovely flavour as well as looking great.
Avocado is a great source of healthy fats, which are an essential part of a healthy eating diet when you are trying to lose pregnancy weight.
Ingredients:
2 large ripe avocadoes, halved, stone removed
1 tbsp olive oil
Juice of 1 lime
50g diced low fat feta
2 ripe tomatoes, de-seeded and diced
Salt and pepper
Fresh parsley leaves, to serve
Method:
Preheat your BBQ grill to med/high.
Drizzle the 4 halves of avocado with olive oil and squeeze over the lime juice.
Place the avocadoes, flesh side down, onto the hot pan.
Allow to grill for around 5 minutes without touching or moving them.
Remove from grill and set aside.
In a small bowl, mix together the feta, tomato, salt and pepper, and parsley.
Fill the holes of the avocado with the salsa mix and serve.
Serves: 4. Calories per serve: 208.

Need to stock up on Healthy Mummy Smoothies? Then see our shop here
And join our 28 Day Weight Loss Challenges here