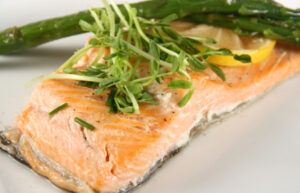 If you love your daily cup of tea, why not consider thinking outside the teacup and using tea in your cooking?
Tea has a very subtle flavour when paired with food, and with so many varieties to choose from you will be sure to find one that matches perfectly with your recipe.
You can really use tea in so many ways in your cooking. Wherever you are using water, consider substituting a well-matched tea. It offers great flavour while adding next to no calories. Great news if you are trying to lose weight.
Ideas For Cooking With Tea:
use peppermint tea instead of water or stock when making cous cous
pop a black tea bag in with your water when cooking pasta
add a citrus tea bag to the milk when cooking porridge on the stove
You may have heard of tea-poached salmon before. This is a great recipe as it is very simple to prepare and has very few ingredients which lets the flavours of the tea and the salmon shine through.
Green tea is said to be great for weight loss, as it is thought that it can increase our metabolism and increase our body's ability to burn fat.
Ingredients:
4 x 200g salmon fillets
2 tbsp loose green tea
1 tbsp peppercorns
Thumb size piece of ginger, peeled and finely chopped
Salt and pepper to taste
Lemon wedges to serve
Method:
In a large saucepan, bring 5 cups of water to the boil.
Add your tea leaves, ginger, and peppercorns. Turn off the heat and let the mixture steep for 10 minutes.
Place salmon in the broth and gently simmer for 8 minutes.
Remove salmon and season well with salt, pepper and a squeeze of lemon.
Serve with your favourite sides such as steamed vegetables or brown rice.
Serves: 4. Calories per serve: 385.

Need to stock up on Healthy Mummy Smoothies? Then see our shop here
And join our 28 Day Weight Loss Challenges here