We are excited – the 28 Day Weight Loss Challenge is starting soon and today we are sharing one of the delicious recipes -one of the 1000+ recipes available to you in the 28 Day Challenge recipe hub when you take part in the 28 Day Weight Loss Challenge– a Green Chicken Curry recipe to show you that it is possible to enjoy yummy and healthy home made 'take away' style food at home that is easy to make.
Sign ups are now open and 1000's of mums have already jumped on board to be part of the biggest MUMS ONLY weight loss challenge to lose weight an average of 4 – 6kg over 28 days in a safe, healthy and non food deprivation way (we include ALL food groups on our plans!) You can also try The Healthy Mummy Smoothie range as part of your healthy eating plan.
So here is a bit of a sneak peek to what is involved and a peek at the yummy food on the Challenge.
You can also swap the chicken in the recipe for any protein you have or prefer.
Green Chicken & Coconut Curry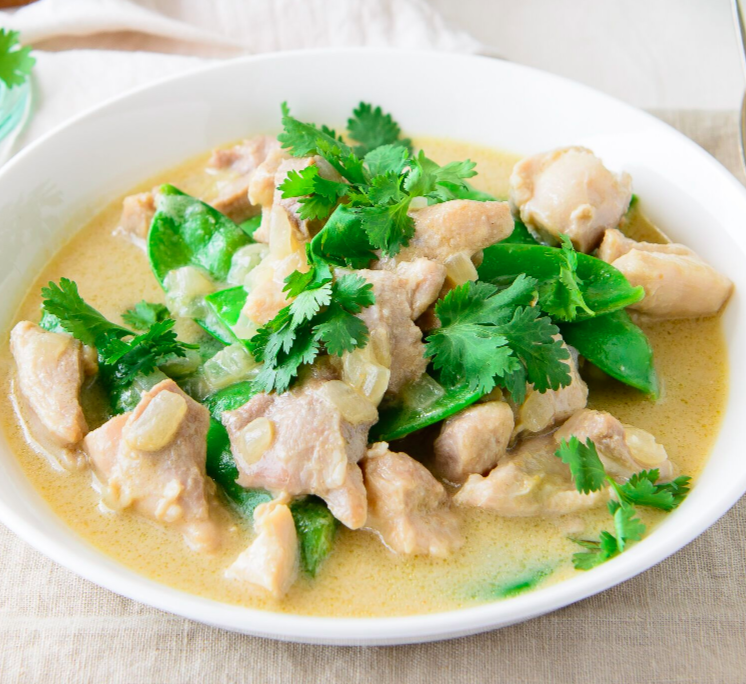 Serves 1
541 cal cals per serve (includes quinoa)
43g of protein per serve
11g of fat per serve
20g of carbs per serve
Coconut milk makes this a delicious and creamy, healthy curry, perfect as a nutritious dinner.
Ingredients:
1/4 tbsp olive oil
1  clove fresh garlic, finely chopped
1/2 tsp chilli flakes
1/4 tbsp fresh ginger, grated
1/2 tsp ground cumin
1/2 tsp ground coriander
1/4 tsp turmeric
150g chicken breast fillet, cut into 3cm strips
1 stalk celery including leaves
25g button mushrooms, quartered
1/4 large carrot, roughly chopped
1/4 cup snowpeas, topped & tailed
1/8 head of cauliflower, broken into florets
1/2 cup broccoli florets
1-2 bay leaves
100mL lite coconut milk
100mL chicken stock
Sea salt
1/4 cup uncooked quinoa, rinsed (optional)
Fresh coriander or basil to serve
Method:
Heat olive oil in large deep saucepan over medium heat and add ginger, chilli and garlic. Cook for about 2 minutes then add the coriander, cumin and turmeric and cook for a few minutes before adding the chicken pieces. Continue cooking for 5-7 minutes or until almost cooked through.
Add vegetables, coconut milk, chicken stock, bay leaves and salt to taste.
Reduce heat to low and simmer for 10 -15 minutes.
Meanwhile, if serving with quinoa prepare by bringing rinsed quinoa and 1 cup of water to the boil. Once boiling reduce heat to low and simmer for 12 minutes. Then remove from heat and keep covered for further 15 minutes before fluffing with a fork.
Place quinoa in a bowl (if serving with), top with curry and serve with fresh coriander or basil