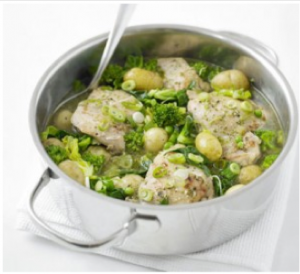 Summer is here and it's time to start serving up fresh, seasonal food again as part of your healthy eating plan.
Make the most of the ingredients available at this time of the year by making this delicious summer chicken recipe – fresh, flavourful and perfect for all the family – and ideal for your pregnancy weight loss plan.
This one pot casserole combines chicken, potatoes and plenty of green veggies to make a healthy, filling dinner that everyone will enjoy.
Ingredients
500g skinless, boneless chicken thighs, trimmed of excess fat
1 large onion
2 spring onions
400ml chicken stock
1 tbsp oil
350g baby potatoes
350g fresh broccoli
350g fresh cabbage or spring greens
100g fresh or frozen peas
2 tbsp. green pesto
Small handful freshly chopped parsley
Salt and pepper
Directions
Finely dice the onion and thinly slice the spring onions on the diagonal. Chop the broccoli into florets. Finely shred the fresh cabbage.
Heat the oil in a large casserole pot. Fry the onion until soft and sweet, around 7-8 minutes. Add the chicken and fry on either side until golden brown. Add the stock and potatoes, salt and pepper and bring to a simmer. Cover and cook for 20-30 minutes until the chicken and potatoes are cooked through.
Add the broccoli, cabbage and peas. Simmer for 3-5 minutes until the veggies are cooked, then before serving, stir in the chopped spring onions, pesto and fresh parsley. Add more seasoning to taste.
Recipe serves 4. Calories per serving: 351.