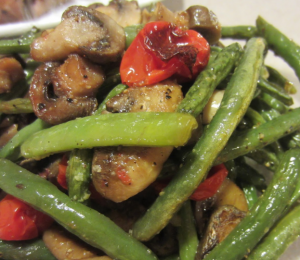 Green beans have a fantastic crunch and a delicious flavour, and vine-ripened cherry tomatoes are the perfect addition to any salad and are packed full of vitamins and nutrients.
They contain numerous antioxidants which are thought to combat various types of cancer.
Also tomato is rich in minerals and vitamins and also protects the heart from cardiovascular diseases. Also, tomato prevents urinary tract infections and hypertension, and promotes eye health.
Ingredients
200g green beans
200g button mushrooms
Small handful each fresh soft herbs of your choice, such as basil and parsley
100g cherry tomatoes, vine-ripened
2 tbsp. extra-virgin olive oil
Juice of 1 fresh lemon
Salt and pepper
75g parmesan cheese shavings
Method
Thinly slice the mushrooms. Slice the tomatoes into quarters and lightly cook them in a pan or under a grill. Slice the tops and bottoms off of the green beans. Put the mushrooms into a bowl with half the lemon juice. Toss to combine.
Whisk together the rest of the lemon juice along with the olive oil, salt and pepper. Place the green beans into a pan of simmering salted water. Simmer for 5-6 minutes until tender, but still with a crunch. Drain and leave to dry slightly in the colander.
Toss together the beans, mushrooms and lemon juice, herbs and tomatoes. Pour over the dressing and toss to combine. Sprinkle with parmesan shavings before serving.
Recipe serves 2. Calories per serving: 297.
If you are ready to lose weight then the Lose Baby Weight plans offer a healthy and safe exercise and diet routine that are safe in breastfeeding

And don't forget to check out our current promotions and discounts page to see what specials we have on this week on our Healthy Mummy product range