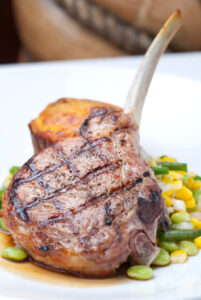 Nothing says 'summer BBQ' like lamb cutlets. Juicy, tender and delicious with a whole range of side dishes, lamb cutlets are my family's go-to dinner on a warm day. I also love cutlets for their weight loss friendly size. We often talk about portion control when it comes to losing weight and while most of us are learning how big (or small) a serving should be, things like lamb cutlets take the hard work out of proceedings. Genius!
Lamb meat itself is also a great inclusion in your weight loss or healthy eating plan. Extremely high in protein (one 100g serve contains 28g of the muscle building powerhouse), iron, magnesium and zinc, lamb also contains Omega-3 which means it provides your body with a valuable hit of essential fatty acids.
When eating lamb, like with any meat product, it is important to choose lean cuts. Less lean, or fattier cuts of meat tend to have higher saturated fat levels than their trimmed down counterparts. As we want to avoid too much saturated fat in our diet, choosing a lean cut of meat, makes sense. We used frenched lamb cutlets for this recipe as they retain all the flavour, without the excess fat.
What you marinate and how you cook your lamb also has a bearing on it's healthful properties. Shop bought marinades can sometimes be very high in salt and sugar, and contain other artificial additives. If you do decide to buy a bottled marinade, make sure you check the nutritional information panel on the back of the bottle.
Alternatively, making your own marinade means that you control exactly what goes in, and what stays out. Being conscious of what you add to the mix means that you can enjoy a marinade low in additives and high in taste. This recipe uses a Greek yoghurt based marinade that is packed with flavour from lemon juice and zest, crushed garlic, sea salt and a few sprigs of rosemary.
When it comes to the cooking side of things, grilling on the BBQ or under a health grill, or lightly pan frying in a little bit of olive oil are your best bets.
Ingredients
12 frenched lamb cutlets

3 tbsp Greek yoghurt

Juice and zest of one lemon

2 cloves garlic, crushed

4 springs of rosemary, roughly chopped

Pinch of sea salt flakes
Pinch of black pepper
1 tbsp olive oil
Directions
Combine yoghurt, lemon juice and zest, rosemary, sea salt and black pepper in a large bowl.

Add lamb and ensure all cutlets are well covered in marinade.

Cover with cling film and refrigerate for a minimum of 30 minutes.

When meat is finished marinating, add 1 tbsp olive oil to a large frypan.

Heat frypan over medium heat (or turn on grill/ensure BBQ is hot).

When frypan/grill plate/BBQ is hot, add lamb and cook for approx 4-5 minutes before turning.

Cook the other side for the same amount of time.

Remove from heat and set aside to rest.

Serve with a green salad or steamed veggies (we served ours with steamed corn, beans and peas)
Makes 4 servings – Cal per serve – 550