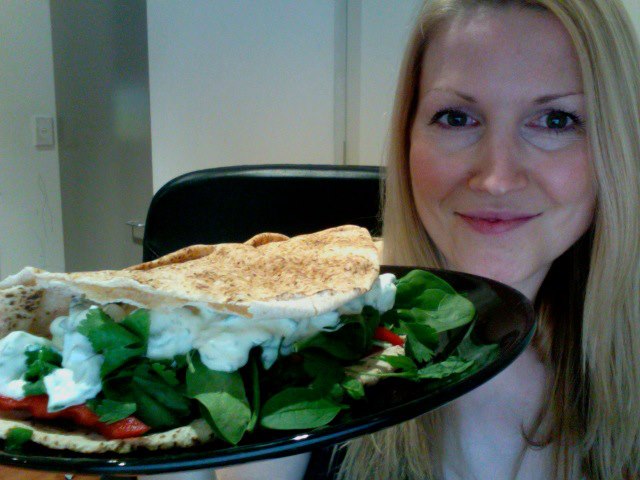 A Mediterranean diet has long been claimed to be one of the best healthy eating diets to follow due to the high amounts of olive oil, fresh foods, legumes and lean meats.
I just love cooking up a Greek inspired dinner on the weekends for a taste sensation that won't ruin your weight loss plan and will actually help you on your goals to living a healthy life.
I say the weekend as I usually cook a lot for a big Greek lunch or dinner and my week night meals are faster to make due to time and usually being pretty tired – you can see lots of our easy and family friendly weight loss recipes here too
So this weekend I did one of my Greek inspired lunches and it was absolutely delicious!
I made Lamb filled pitta breads with salad, feta cheese and a home made tzatziki dressing, roasted sweet potatoes with home made hummous and a big Greek salad – but if you are short on time the pitta breads are my favourite quick meal to whip up mid week too and you can swap the lamb for chicken too if you fancy a change
My hubby and fussy toddler loved it and it really is one of my favourite meals.
Recipe for lamb filled pitta bread
2 x lean lamb steaks
2 x wholemeal pitta breads (warmed in the oven)
Chopped cucumber
Chopped red capsicum
Handful of spinach in each pitta pocket
Few slices of red onion in each pitta pocket
Grill the lamb until done, then warm the pitta bread up for a couple of minutes. Then stuff the pitta bread with the salad and lamb and then top with your home made tzatziki and enjoy!
Recipe for tzatziki
4 x tbsp. of greek yoghurt
Handful of  freshly chopped mint
1 x crushed clove of garlic
Cupful of chopped cucumber
Juice from half a lime
Mix all together in a bowl and it is ready to go! You can use lemon juice if you don't have lime – I just love it with lime juice.
Then I just serve with a big greek salad and roast some sweet potatoes and serve them cut into wedges with the hummous as a dip. You can see our hummous recipe here.
A really tasty, healthy and relatively easy meal to make that will have your taste buds doing a happy dance!
And don't forget to check out our current promotions and discounts page to see what specials we have on this week on our Healthy Mummy product range