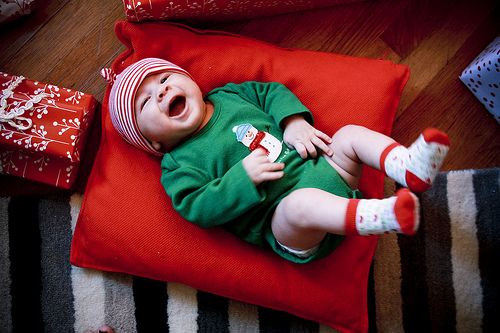 On top of the holiday rush, planning Christmas dinners, and trying to lose baby weight, now you have the added privilege of picking the perfect gift for your baby's first ever Christmas!
Relax, we've got your back. To help you pick out your baby's first Christmas gift, here are a few ideas that you might find interesting.
Letter from Santa
Your baby's first ever gift is from Santa! Imagine how amazing and memorable that would be! You can start a Christmas tradition of writing a letter to your baby, from 'Santa' of course, and keep doing it every year to let him/her know that Santa's always watching to see if they're naughty or nice.
Family photo
Sometimes the simplest things could be the best Christmas gifts. A family Christmas photo is definitely one the most sentimental and endearing things that your baby can get. As they say, a picture is worth a thousand words and this will be the story of how your baby celebrated his/her first Christmas.
Teether
As your baby grows, you will start to realise that a teether is one of the best gifts you have gotten for him/her. Teething is unavoidable and all babies will appreciate something soft to gnaw on to sooth their gums. It'll also double as a squeaky toy that is sure to be safe for your young one.
Rattle
It is widely known that babies love rattles and there's something about it that keeps them calm and happy. Every baby can safely hold, shake and chew on a rattle so this will definitely be a great gift for your young one. Rattles come in a variety of shapes and sizes so choose one that you think will appeal to your baby.
Christmas PJs
Nothing shouts out Christmas more than a cuddly pair of jammies with lovely Christmas prints. Your baby will look absolutely adorable in his/her first ever Christmas morning picture.
Teddy Bear
A teddy bear is a classic Christmas staple that will never ever go out of style and your baby can still keep playing with it throughout the years. It could also act as a night companion for your baby when he/she starts sleeping alone in their nursery.
We hope that this has sparked your Christmas gift ideas and now it's time to go get that gift for your baby. It doesn't matter what you get for your loved one as long as the Christmas gift is meaningful and has a sentimental value that stands the test of time.
As a treat for you, check out our current promotions and discounts page to see what specials we have on this week on our Healthy Mummy product range.