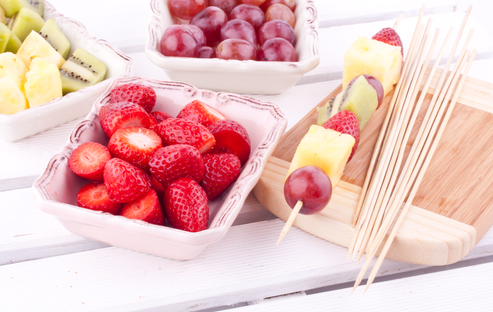 For a tasty treat or dessert, why not try these healthy eating, weight loss friendly fruit kebabs.
For an extra twist, this orange dipping sauce adds a bit of fun and is also very low in calories and fat which is perfect for when you are focused on weight loss.
Naturally you can tailor the recipe depending on tastes or what fruit you have available.
Try to keep the colours varied, and chop the fruit into a similar size so that it looks good on the stick.
Why not even leave the fruit cut up in bowls and let everyone make their own personalised kebab?
Ingredients:
Strawberries, kiwi fruit, melon, red grapes and pineapple all cut to similar size
1 cup low fat sour cream
2 tbsp honey
1 tsp cinnamon
Zest and juice of ½ an orange
Method:
Thread the fruit onto the skewers and place on a serving tray.
To make the dipping sauce, simply stir together the sour cream, honey, cinnamon, orange zest and orange juice in a bowl. Sauce makes enough for approximately 12 kebabs.
For best results, chill the kebabs and the sauce for an hour before serving.
Serves: 12. Calories per serve: 42 (sauce only, calories for the kebabs will depend on fruit used).

GET YOUR 10% DISCOUNT
If you are ready to lose weight then the Lose Baby Weight plans offer a healthy and safe exercise and diet routine and you can get a 10% discount by using code LOYALTY at the checkout
Click HERE to see our shop