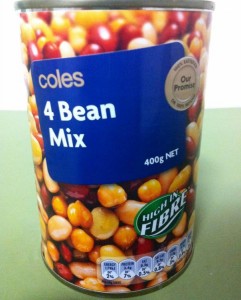 If you're looking for a super easy, super simple, weight loss friendly lunch option, this salad might just be the one for you.
Finding something quick to prepare, low in calories and high in all the good stuff, like protein and complex carbs, can be a tricky task when it comes to lunch time meal options.
If you're eating on the run, at work, or wrangling a baby, it's often doubly difficult.
This yummy salad can be prepared in under 10 minutes, requires no cooking and can be pulled together from ingredients you'll often have floating around your fridge and pantry.
It's also super low in fat, but high in protein and fibre, meaning it will keep you feeling full and satisfied (and curb that 3pm sugar craving).
Four bean mix can be found alongside the other canned veggies at your local supermarket and is an excellent addition to your pantry.
These little legumes are an often forgotten source of protein, as we often focus on things like meat, grains or dairy.
The addition of avocado adds a helping of good fats, while spanish onion and fetta cheese adds plenty of flavour.
You can also vary this salad to your own tastes, or what you have floating around in the crisper. Leaves like rocket, cherry or vine-ripened tomatoes or even grated carrot or zucchini all make great additions.
You could even add a can of drained tuna or salmon, or leftover chicken breast to make this more of a substantial meal.
Enjoy!
Ingredients
1 can of four bean mix
1/2 a large avocado, diced into chunks
1 cup of baby spinach leaves, shredded
1/2 spanish onion, finely diced
1/2 cup reduced fat fetta cheese, crumbled
2 tsp lemon juice
2 tsp extra virgin olive oil
2 tsp balsamic vinegar
1 tsp wholegrain mustard
Directions
Remove beans from can and rinse in a colander before leaving to drain.
Pour washed and drained beans into a large bowl.
Add spinach, spanish onion and fetta and toss to combine.
In a small jar or jug, whisk together vinegar, olive oil, lemon juice and mustard.
Drizzle dressing over salad and serve immediately.
Yum!
If you are ready to lose weight then the Lose Baby Weight plans offer a healthy and safe exercise and diet routine.
And don't forget to check out our current promotions and discounts page to see what specials we have on this week on our Healthy Mummy product range