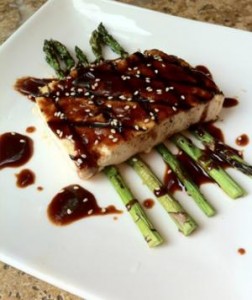 Tofu isn't as bland and tasteless as everyone thinks it is.
In fact, when you add the right flavours and cook it the right way, it can be absolutely mouth-watering!
It's great for low-cal diets, and packed with soy protein, calcium and iron…truly one the healthiest food available in the market today.
It's also tremendously helps with your post pregnancy weight loss plan because it will allow you to maintain a healthy low-cal diet.
Not only that, tofu is a perfect substitute for high-calorie cheeses or even fatty meat like pork. The best part about tofu is that it easily takes on the flavour of any spices or ingredients you cook it with, and it's soft, silky texture makes it absolutely easy to eat!
Yum!
If you are relatively new to tofu and still trying to get used to it, why don't you try this flavour-packed Hoisin Glazed Grilled Tofu?
This delish dish is prepared with asparagus on the side so that it gives you a crunchy counter-texture to the softness of tofu. And the hoisin sauce will add some kick to the already tasty tofu.
Ingredients:
200g firm tofu
½ tsp. sesame seed
2 tbsp. hoisin sauce
1 tsp. white sugar (optional)
1 tsp. Sriracha sauce (optional)
2 tbsp. low-sodium soy sauce
10 spears of Asparagus
½ tsp. five spice powder
Directions:
Sauce
Mix the hoisin sauce, soy sauce, Sriracha and sugar in a small bowl.
Stir until everything is well mixed.
Asparagus
Heat up a grill pan and grill the asparagus for about 5 minutes or until they are evenly cooked. (Steaming could be another healthier option)
Divide the asparagus between two plates.
Tofu
Toss the sesame seeds in a small skillet till golden brown. Pour into a small bowl and leave it aside.
Cut the tofu in half from its side so that you have two 'fillet' looking pieces.
Dry the tofu by blotting it with paper towels.
Place the dry tofu on a plate and sprinkle the five spice powder evenly on both pieces.
Put it in the grill pan and rub it with a tiny hint of canola oil so that the tofu doesn't stick on the surface.
Gently place it in the pan and let it cook for 1 minute.
Then turn it sideways a little bit to give it the 'X' marks that you normally see on steaks. 30 seconds only.
Then grab a spatula and carefully flip the tofu over and grill it for 1 more minute.
Whilst it's grilling, quickly spoon or brush some of the sauce onto the tofu.
Remove the tofu pieces from the grill and gently place it onto the cooked asparagus spears.
Drizzle with the remaining sauce and finish it off with a sprinkle of sesame seeds.
Serves 2, 138 calories, 5.2g fat, 14.6g carbohydrate, 12.4g protein.
Enjoy your yummy tofu and say hello to a leaner, fitter you!
GET YOUR 10% DISCOUNT
If you are ready to lose weight then the Lose Baby Weight plans offer a healthy and safe exercise and diet routine and you can get a 10% discount by using code LOYALTY at the checkout.
Click HERE to see our shop