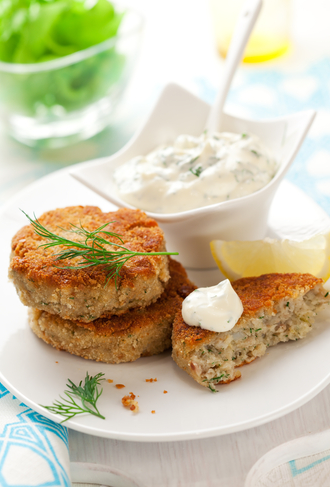 Here's a way to get some healthy fish into your diet in a way that will interest the kids too.
For many littlies, being able to dunk their food into a dipping sauce makes a meal more exciting.
It's great to include fish in your diet regularly when you are trying to lose weight.
It's low in fat and calories, and packed with heart healthy Omega-3's which your body needs for good health.
Tailor to what herbs you have on hand. You could try chives or dill instead of the parsley if that's what you have available. 
Ingredients:
800g boneless white fish fillets
3 green shallots, very finely chopped
½ tsp minced garlic
1 cup wholemeal breadcrumbs
1 egg, lightly beaten
¼ cup fresh parsley leaves, finely chopped
2 tbsp olive oil
Zest and juice of 2 lemons
2/3 cup Greek yoghurt
3 tbsp mayonnaise
2 tbsp dill, finely chopped
Salt and pepper, to taste
Method:
Process the fish in a food processor until finely chopped.
Place the fish in a large bowl with the shallots, garlic, breadcrumbs, zest and juice of 1 lemon and the parsley. Season to taste.
Heat a frying pan to med/high and heat your oven to 200C.
Wet your hands and roll the mixture into balls.
Heat 1 tbsp oil in the hot pan and add half of the fish cakes.
Cook for 3 minutes, turning regularly so they are browned all over.
Remove from the heat and cook the rest of the fish cakes in the other tbsp of oil.
Place the cooked fish cakes onto a lined baking tray and bake for 5 minutes until crispy.
To make the dipping sauce, combine the yoghurt, mayonnaise, juice and zest of 1 lemon and the dill. Season to taste with salt and pepper.
Serves: 4. Calories per serve: 460.