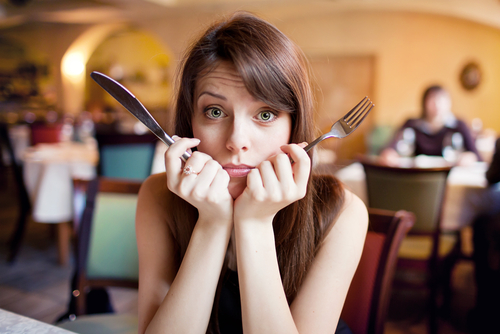 When you are focused on losing pregnancy weight, dining out can feel a bit nerve wracking.
You give up the control of what goes into your meal and leave it in the hands of a chef, who may be a lot more heavy handed with the butter and cream than you are at home.
So how do you go about finding the better options on a restaurant or café menu?
Follow our guide below to help you navigate your way through a night out without having to undo any of your hard work of losing weight after pregnancy.
Thai / Asian Food / Chinese / Noodles
Often we find ourselves eating Asian style food in a group setting, which can lead to overeating and poor food choices.
Instead of grazing your way through the dishes, try to fill your plate mostly with healthy salads and vegetable dishes. From there, add some healthy proteins and stir fries, but try not to dip back in again and again. Overeating can happen very quickly when you are having fun and chatting, so be conscious of not overdoing it.
Healthy choices:
Grilled prawns with light sauces
Sauteed vegetables
Stir fries with chicken / beef / prawns
Soba noodles with grilled salmon
Seaweed salads
Brown rice sushi rolls
Less healthy choices:
Anything deep fried such as spring rolls or curry puffs
Creamy curries
Too much white rice as a side dish
Pizza / Pasta / Italian
While it's well known for offering a huge variety of carbs with more carbs, there are some good options to choose from the Italian menu.
You can still enjoy some of your favourite dishes such as pizza or pasta, but it's a great idea to share dishes with your dinner guests and order things like salad or veg to bulk up your plate.
That way instead of filling up on 6 slices of pizza, you can enjoy 2 slices or pizza or a small serve of pasta, and a big side of fresh leafy greens.
Healthy choices:
Chicken or prawn salads
Thin crust pizzas without processed meats, served with salads
Grilled or baked fish, chicken breast, salmon served with fresh vegetables
Minestrone soup or the soup of the day if it is vegetable/tomato based (not cream based)
Less healthy choices:
Creamy pastas
Pizzas using excessive processed meats and sugary sauces
Garlic or herb bread
Dessert pizzas such as Nutella and banana (why not split a sorbet instead)
Burgers / Fish & Chips / Chicken / Salads / Wraps
Not everything needs to come from the deep fryer, so check out the menu before you give in to the generic fish and chips.
There are often healthy options such as grilled meats, marinated grilled seafood, and salads without the creamy dressings.
Healthy choices:
Grilled fish with salad (pinch a few chips from someone else)
Marinated calamari (not battered)
Grilled chicken or fish burgers on a brown roll or wrap with lots of salad (hold the creamy mayo)
Less healthy choices:
Anything deep fried such as spring rolls, schnitzels, scallops or chips
Food that is battered and fried such as fried fish, battered calamari
Modern Australian / Café Style
Instead of going for a traditional café burger, be sure to peruse the rest of the menu for some healthier options.
Cafes often do a great salad, and most won't mind if you ask to switch or add a few other ingredients to make it even more nutritious.
Healthy choices:
Salads with a healthy protein such as prawns, beef strips, grilled chicken
Poached, steamed or grilled fish with salad
Omelette made with tomato, cheese, spring onions and served with salad
Lean steak with lots of vegetables or salad
Side dishes such as steamed greens or rocket and Parmesan salad
Less healthy choices:
Creamy pasta
Side dishes such as mashed potato, garlic bread or chips
Burgers with chips or wedges

GET YOUR 10% DISCOUNT
If you are ready to lose weight then the Lose Baby Weight plans offer a healthy and safe exercise and diet routine and you can get a 10% discount by using code LOYALTY at the checkout
PLUS our BEST SELLING 28 Day Diet & Exercise Plan is available as a 200pg Printed Book and you can get your copy here 
Plus our NEW CALORIE BIBLE is now available – get your copy today! Only $19.95 and a must have in your handbag!
Click HERE to see our shop