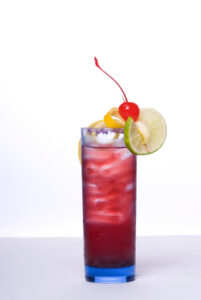 Merry Christmas everyone! Whether you're celebrating at home, with family or abroad, all your planning has hopefully paid off and all systems are well and truly go.
While the food is (hopefully) all taken care of, the drinks menu is often the forgotten cousin, at least until someone realises that all that's on ice is some tap water and a half empty bottle of cordial!
Having a couple of yummy, festive inspired mocktails on the menu adds a little extra sparkle to the day, and gives those who might be pregnant, breastfeeding or trying to lose weight and eat healthily an option apart from water or sugar laden fizzy drinks.
Not only are these concoctions cool and refreshing, they've also got a 'Christmassy' touch that makes them perfect for this time of year.
The basis for the majority of these beverages is fruit or fruit juice, which may be energy dense, but is balanced out with sparkling water. Besides, fruit can sometimes end up the bottom of the 'to eat' list around this time so enjoying a helping in any form is a good thing!
Each of these recipes can be made either as a single drink or as a pitcher which should serve 10 thirsty people.
Enjoy!
Fabulous festive mocktails
Summer Breeze –  This sweetly fruity drink can be prepared ahead of time and stored in the fridge or an icebucket for up to three hours. Just top up the ice when you're ready to serve.                                                                                                                                                                                     For 1 glass – 75ml each of cranberry juice, cloudy apple juice and freshly squeezed orange juice. Serve over ice.                                                          For a pitcher – Add ice to the jug then add 750ml each of the above juices and mix to serve.
Blueberry Bliss – Super fruit blueberries make this drink a delicious way to treat your body to a hit of potent antioxidants.                                                   For 1 glass – 75ml each of chilled blueberry juice (fresh or bottled) and mineral water, and 50ml of lemon juice. Serve over ice.                                             For a pitcher – Chill a jug, add ice then pour 750ml of blueberry juice and mineral water, and 500ml of lemon juice in before stirring and serving.
Ginger Kiss – There's something very festive about ginger and while Australia's hot weather doesn't lend itself to hot, gingery food, this mocktail serves the same purpose.                                                                                                                                                                                                     For 1 glass – Add 25ml chilled lime cordial to 75ml of chilled ginger beer and 1 teaspoon of fresh lime juice.                                                                  For a pitcher – Combine 250ml chilled lime cordial, 740ml ginger beer and 25ml of fresh lime juice in a jug then serve.
Pomegranate Parcel – If there's one colour that just shouts Christmas it's ruby red. It's fitting then that this cocktail uses pure pomegranate juice for a vibrant red glass of yumminess.                                                                                                                                                                              For 1 glass – Add 75ml chilled pomegranate juice to 20 ml ginger ale and 20ml sparkling mineral water. Squeeze in a dash of lime and serve.                 For a pitcher – Chill a jug, add ice then top with 750ml pomegranate juice, 200ml ginger ale, 200ml sparkling mineral water and 1/2 a lime worth of juice.