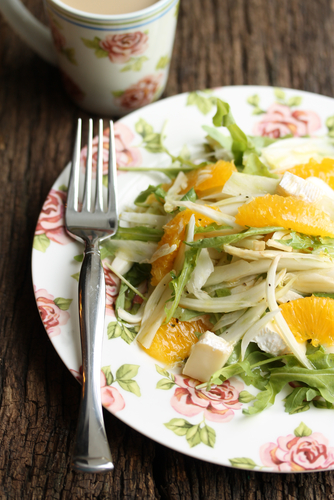 Have you ever noticed how so many delicious things come in groups of three?
There's ham, cheese and tomato; potato, leek and onion; bacon, lettuce and tomato; tomato, basil and feta; even good old meat and 2 veg is a trio of flavour!
So today we thought we would share with you some of our favourite salads that have 3 main ingredients and flavours.
It can sometimes be easy to get carried away with complicated recipes with too many ingredients.
But when you can get your hands on good quality fresh produce, you can let the natural flavours speak for themselves with nothing but a dollop of olive oil on top.
All of these are perfect to serve alongside a roast chicken, some grilled fish, a BBQ'd steak or some lamb chops.
Fennel, Orange and Rocket Salad
Thinly slice the segments of 2 peeled oranges; add them and any leftover juice to a bowl. Use a vegetable peeler or mandolin to thinly slice 1 fennel bulb. Add ½ cup of feta. Throw in a big handful of rocket lettuce, and add 2 tbsp olive oil. Season to taste and toss to combine.
Beetroot, Walnut and Feta Salad
Roast 3 large beetroots in the oven, wrapped in foil, for around an hour or until you can pierce through them with a fork. When cooled, peel off the skins with your fingers and chop into rough chunks. Throw on a handful of chopped walnuts and the same amount of crumbly feta cheese. Sprinkle with some thyme leaves and 2 tbsp olive oil. Season with pepper (as the feta is already adding salt to the flavours).
Avocado, Lime and Red Onion Salad
Cut two ripe peeled avocadoes into chunks. Cover with the zest and juice of one lime. Add ½ a finely chopped red onion, ½ a small red chilli and 2 tbsp olive oil. Season to taste.

GET YOUR 10% DISCOUNT
If you are ready to lose weight then the Lose Baby Weight plans offer a healthy and safe exercise and diet routine and you can get a 10% discount by using code LOYALTY at the checkout
PLUS our BEST SELLING 28 Day Diet & Exercise Plan is available as a 200pg Printed Book and you can get your copy here 
Plus our NEW CALORIE BIBLE is now available – get your copy today! Only $19.95 and a must have in your handbag!
Click HERE to see our shop