I was always extremely active and athletic – I played state level volleyball, netball and water polo and everything in between. However when I fell pregnant I definitely let myself over indulge!
I knew I was gaining weight when I was pregnant but I didn't realize just how much!
I wasn't happy. And 4 weeks after baby arrived I ordered my first lot of healthy mummy smoothies and the 28 day diet and exercise plan.


Now 8 months later, I've reached my goal! 🙂 I've completely changed my lifestyle. Eating healthily and exercising is just my life now, it's not a diet, that's just how it is.
I struggled for a while because my partner is a big (not overweight just heavy and large) Samoan man and eats A LOT so I was trying to cook 4 x the recipe to feed him too.
Then I realized I have actually been educated through lose baby weight to feel confident enough to come up with my own recipes and incorporate what I have learnt so that I can also accommodate for his food needs as well as still eating healthily. He's also lost 7kgs!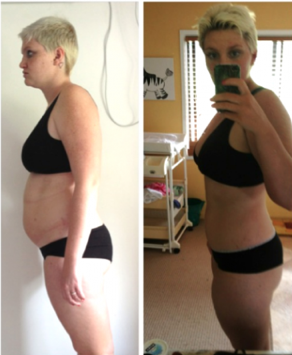 We finally moved house (I'll admit I went off the tracks a little mid-move) but now I can just walk out my door to exercise instead of having to drive to go for a walk! It's wonderful, we walk everywhere and every day. My daughter loves the outdoor time too and now we are right near the beach so as the weather heats up we can do lots of swimming as well!
I'm so thankful and so glad I found  the Lose Baby Weight program. I recommend it to everyone!! Like I said, it's not a diet, it's a lifestyle change. It just becomes part of who you are and I'm proud to say we will be raising one very happy, healthy, active family!
Emma Huegill

GET YOUR 10% DISCOUNT
If you are ready to lose weight then the Lose Baby Weight plans offer a healthy and safe exercise and diet routine and you can get a 10% discount by using code LOYALTY at the checkout
PLUS our BEST SELLING 28 Day Diet & Exercise Plan is available as an 200pg Printed Book and you can get your copy here 
Plus our NEW CALORIE BIBLE is now available – get your copy today! Only $19.95 and a must have in your handbag!
Plus don't forget to sign up for our Get Ready For Summer Challenge – it's free and you can sign up here.
Click HERE to see our shop