Motivating Mum Update on the lose baby weight plans 🙂
At the end of Feb I am feeling pretty great. I'm sleeping alot better now I have been focusing on my healthy eating and eating regularly, which has always been my problem, I could go all day without eating which we all know is bad!!
The last three weeks we have been on a super tight budget so I have been mainly having tinned pear cinnamon smoothie with light milk, and this week I have been having my dinner at breakfast time as Im finding I just dont feel like dinner at night time so I have a healthy mummy smoothie instead.
I have been excercising alot more and Im starting to use my weights again, My youngest daughter and I and the dog have been going for walks every day, and as part of the Lose Baby Weight challenge last week I walked to and from my eldest daughters school with miss almost two in the back pack and walked the long way home walking up a doozy of a hill haha.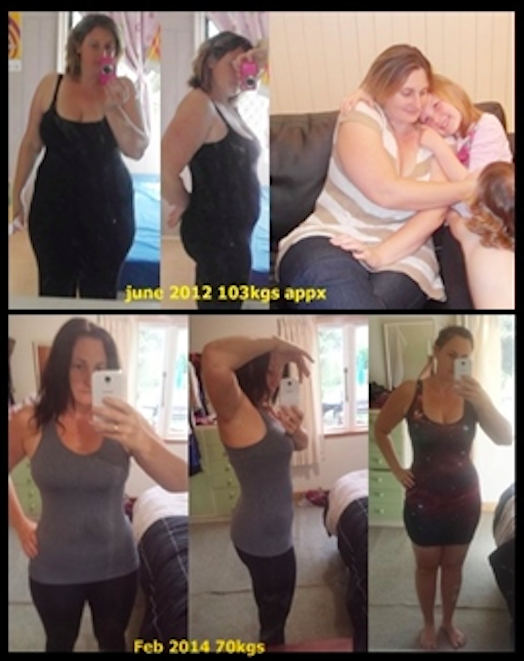 I was doing the Lose Baby Weight DVD daily but is hot to the loo while doing it one day and miss almost 2 took itupon herself to get it out the dvd and stratch it beyond it ever working again so I am a bit sad about that will be saving up for a new one as I really love the dvd it fits so well into my life and its awesome 🙂
So this week I need to invent my own excercise programs so ill be looking through the Lose Baby Weight website for workouts everyday, another of my focuses is drinking more water ive been slacking a bit there,  and getting my sumo squats done for the weekly challenge.
Id like to lose another 5 kgs befgore my birthday at the end of March so will be sticking to my eating and excercising i'm sitting on 70kgs today, so hopefully I can do it make 33 my best year yet.
Eleanor Hannah
GET YOUR 10% DISCOUNT
If you are ready to lose weight then the Lose Baby Weight plans offer a healthy and safe exercise and diet routine and you can get a 10% discount by using code LOYALTY at the checkout
PLUS our BEST SELLING 28 Day Diet & Exercise Plan is available as a 200pg Printed Book and you can get your copy here 
Plus our NEW CALORIE BIBLE is now available – get your copy today! Only $19.95 and a must have in your handbag!
Click HERE to see our shop