Salads make healthy eating easy, but not all salads are created equal! Some salads (especially salads commonly found on café and restaurant menus) are filled with a surprising amount of calories.
It's hard to keep track of how much oil and dressing is tossed through salads prepared by other people, so it's best to make salads yourself at home so you can control the process.
Salads make the perfect, easy lunch or light dinner option when embarking on a fitness program, and if made with the right ingredients can provide a significant amount of your daily recommended fibre intake.
The trick is to focus on including as many fresh vegetables as possible, and avoid adding things like creamy dressings and excess salt, oil, croutons and bacon.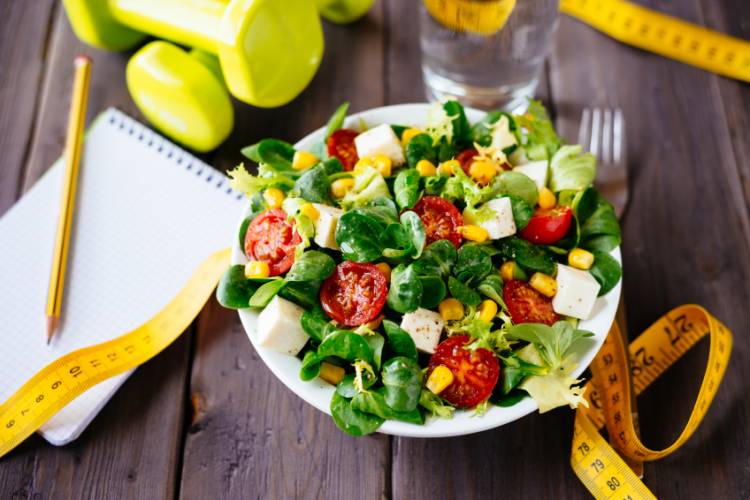 If you're trying to lose weight after pregnancy, then this salad is your friend! Packed with vitamins and low in calories, it's the ideal accompaniment to your fitness program. It's super easy to make, and is perfect for those days when you don't have much time to prepare a healthy lunch.
Ingredients:
150 grams mixed lettuce leaves
60 grams baby spinach
1 tbsp olive oil
Half a punnet of cherry tomatoes, sliced in half
Juice of half a lemon
60 grams reduced-fat feta, cubed
1 x 125 gram can of corn, drained
Cracked pepper, to taste
Optional extras:
Add some sliced avocado for added Omega-3
Throw in some chopped cucumber or celery for added crunch
Add a boiled egg for extra protein
Try adding some sliced purple carrot for an antioxidant boost
Add a small can of chickpeas for extra bulk
Method:
Place baby spinach, lettuce leaves, cherry tomatoes, feta and corn in a big bowl
Add the olive oil and lemon juice and toss
Serve the salad with a light sprinkle of cracked pepper
Serves: 2. Calories per serve: 229
GET YOUR 10% DISCOUNT
If you are ready to lose weight then the Lose Baby Weight plans offer a healthy and safe exercise and diet routine and you can get a 10% discount by using code LOYALTY at the checkout
PLUS our BEST SELLING 28 Day Diet & Exercise Plan is available as a 200pg Printed Book and you can get your copy here 
Plus our NEW CALORIE BIBLE is now available – get your copy today! Only $19.95 and a must have in your handbag!
Click HERE to see our shop