Losing pregnancy weight can be a little tricky when you're cooking for your family, especially when kids and partners won't eat salads!
Luckily you can include family-friendly hearty pasta dishes likes this one in your healthy eating plan.
Pasta can still be enjoyed while striving for weight loss – just avoid excessive amounts of butter, cream, and oils and instead focus on light ingredients like salmon, tuna, vegetables and tomato-based sauces.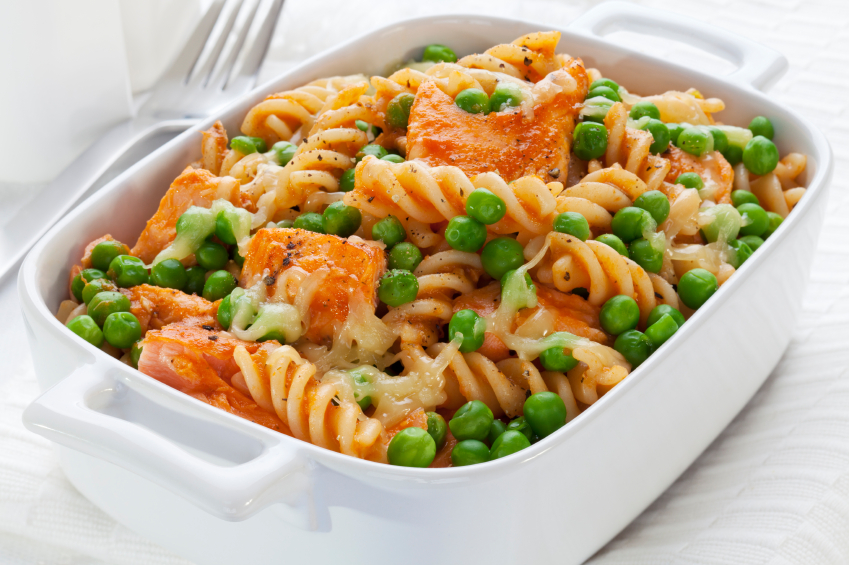 This recipe is a good option for a midweek dinner that will satisfy kids and adults alike. It's also a good option to warm up the next day for lunch – if there's leftovers!
Ingredients:
300 grams of canned salmon in springwater, drained
400 grams of fusilli pasta
100 grams of grated mozzarella cheese
300 grams of passata tomato sauce
1 clove of garlic, minced
2 cups of frozen peas
1 teaspoon of olive oil
Cracked pepper
A pinch of salt

Optional Extras:
Add a can of corn or chickpeas for added fibre
Substitute the canned salmon chunks for canned tuna instead
Top with low-fat grated cheddar cheese instead of mozzarella
Add a couple of handfuls of baby spinach for added folate and iron
Use wholemeal penne pasta instead of fusilli
Method:
Bring a large pot of salted water to the boil and add fusilli pasta. Cook for 12 minutes or until al dente (just soft).
In a small saucepan, heat olive oil then add minced garlic and cook for 1 minute.
Add passata sauce to the saucepan and simmer with the garlic for 10 minutes.
In a large pot, cooked the frozen peas for 2-4 minutes, or until soft.
Place the cooked pasta, passata sauce and peas in a large baking tray.
Stir through the salmon chunks, then cover with shredded mozzarella.
Cook in an oven heated to 180 degrees Celsius for 12-15 minutes or until the cheese is melted.
Serve warm with a dash of cracked pepper.
Serves: 4. Calories per serve: 349
Need to stock up on Healthy Mummy Smoothies? Then see our shop here
And join our 28 Day Weight Loss Challenges here