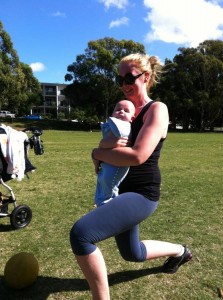 It has come to my attention this morning that we are already in November! How did that happen and where did the past 11 months go?
Christmas is just around the corner, bringing with it the endless parties, family catch ups and beach holidays that make the festive season so wonderful.
This time of year can be a tricky one to navigate though, especially when trying to lose weight or follow a healthy eating or weight loss plan.
Whether you're staying home for the holidays or heading away with the family, your usual daily structure cops a battering during December and January.
Not only are you faced with a veritable smorgasbord of food options at every turn, you'll also often need to contend with a whole bunch of once a year activities and engagements that can throw a real spanner in the works of your exercise routine.
We all know how important regular exercise is for healthy weight loss, but we also know how important time spent with our families is, especially during this special time of year.
Trips to the beach/lake/pool, BBQ's, walks in the park at dusk are what summer is all about, and you certainly don't want to miss spending these with your nearest and dearest.
The solution? Get creative and incorporate some exercise into your day-to-day holiday activities. This is a great way to stay active and keep your weight loss on track, without compromising family time.
We're blessed with beautiful weather during the festive season and exercising outdoors is a fantastic way to shake up your usual routine, while including the whole family in the fun.
The top outdoor exercise ideas for weight loss
Heading to the beach (pool/lake/swimming hole)? Exercising in water is a fantastic cardio workout as well as being great for all over toning. You don't need to be a great swimmer to enjoy the benefits either. Try spending 5-10 minutes water walking or jogging, using both your arms and legs to propel your forward, followed by some underwater boxing (using the resistance of the water is a great alternative to boxing pads) and toning exercises like squats and lunges. Alternatively, chase the kids around the pool for twenty minutes to combine all of the above in a heart racing workout! Just make sure to exercise caution and stay at a depth where you feel comfortable.
Got a stretch of sand at your disposal? Walking on the sand is like turbo-charging your normal power walk. The unstable surface means all your muscles need to engage to keep you balanced and steady (including your abs!). The softer the sand, the harder you'll work so perhaps start your walk on the hard packed, wet sand then progress up the dunes to the softer stuff for a real calorie slayer.
Spending time with the kids at the park? Join them on the equipment! Climbing ladders to reach the top of the slippery dip, boosting little bodies up onto drawbridges and pushing heavy swings all use a bunch of muscles that generally don't get targeted in a standard walk/run/swim. It's incidental exercise but it'll certainly help balance out that extra sliver of christmas pudding!
Got a non-walking bubba? Use them as your 'weight' for resistance exercises. Squats, lunges, even sit ups, are all made that bit harder with the introduction of a weight. Holding a few kilo's of baby will certainly make your legs work harder!
Leave the car in the driveway. Although it can be a bit more of a challenge, leaving the car behind and walking to the local shops/playground/town centre is a great way to incorporate your daily walk into proceedings. The added bonus? You'll often discover things that you've driven past a million times before but never noticed until you actually walk past and pay attention. I discovered a fantastic little cafe, in a back street, last christmas while on holidays and out for a walk.
If you are ready to lose weight then the Lose Baby Weight plans offer a healthy and safe exercise and diet routine that are safe in breastfeeding and can help support your milk supply

And don't forget to check out our current promotions and discounts page to see what specials we have on this week on our Healthy Mummy product range