When you have a family to feed, it's great to be able to cook something that can be enjoyed by adults and kids alike.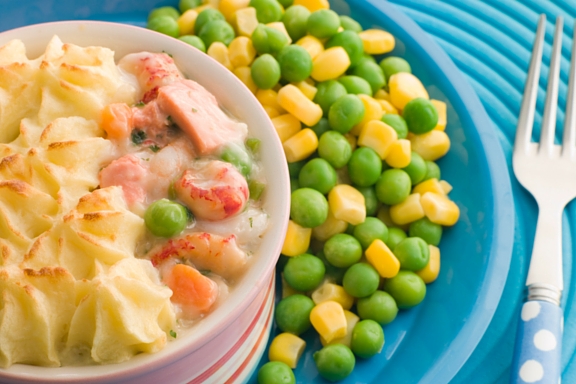 This is a deliciously creamy, easy cheesy fish pie reheats well the next day (if there's any left) and is low in calories!
You can use salmon, white fish or even add some prawns if you want to change it up a little.
This fish pie freezes well to reheat for another night. Simply divide into portions and place in a freezer friendly container.
Ingredients:
400g white fish fillet (or a mix of fish and prawns)
1 bay leaf
300ml skim milk
1 heaped tbsp plain flour
600g potatoes (or you could use sweet potato), peeled and cut into chunks
3 tbsp Parmesan cheese, grated
2 cups frozen peas, to serve
Juice of 1 lemon plus wedges to serve
Fresh parsley, to serve
Salt and pepper to taste
Method:
Heat your oven to 200C.
In a large saucepan, add the potatoes to boiling water and cook for 15 minutes, or until soft.
While the potato is cooking, heat your frying pan over a low heat.
Place the fish fillets into the pan with the milk and bay leaf.
Cover the pan with a lid and simmer gently until the fish is cooked.
Remove the pan from the heat and let it cool for five minutes.
Carefully remove the fish and flake it into small pieces, placing into an oven-proof casserole dish. Remove the bay leaf from the milk and discard.
Heat the milk up again until warm and sift the plain flour into it. Whisk the mixture constantly to avoid lumps, until it thickens. Season with salt and pepper.
Pour the lemon juice into the white sauce, and pour the sauce over the fish.
When the potatoes are done, strain them and allow to cool.
Mash the potato and then place on the top of the fish.
Sprinkle with Parmesan cheese and bake for 30 to 45 minutes. It is ready when the top is crispy and golden.
Cook your peas according to packet directions.
Serve the pie with peas and lemon wedges, and sprinkle the fresh parsley over the top.
Serves: 4. Calories per serve: 300.