One of the challenges that come with trying to lose pregnancy weight is cooking healthy, nutritious meals that your children will eat as well.
Children are notoriously fussy eaters, and many may reject the "healthy" foods and meals that feature on many weight loss plans.
This recipe for Easy Cheesy Carrot Fritters is a nutritious, low calorie menu option that all children from toddlers to teens will enjoy. Packed with simple ingredients, these fritters are delicious but don't have any strong, overpowering flavours that sometimes turn off kids.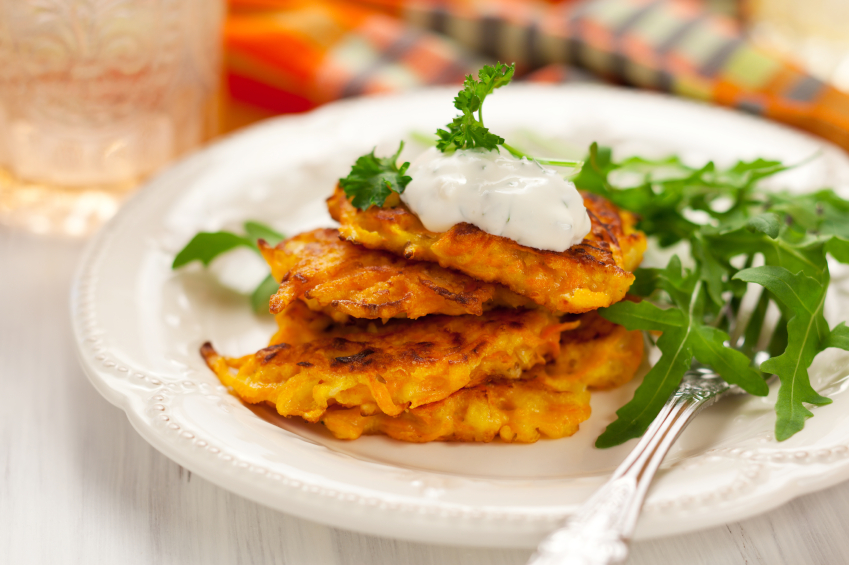 Ingredients:
3 cups of grated carrot
1 egg
100 grams of wholemeal flour
1 tablespoon of coconut oil
80 grams reduced fat cheddar cheese
1 sprig of parsley
1 large handful of rocket
3 tablespoons reduced-fat Greek yoghurt
Quarter of a lemon
Cracked pepper

Optional Extras:
Serve with a side of baby spinach instead of rocket
Add a small can of corn to the carrot
Replace the cheddar cheese with feta or ricotta cheese
Add a can of drained tuna in springwater for extra protein
Add chopped coriander, dill or chilli flakes for spicy twist
Method:
Combine the wholemeal flour, cracked pepper, carrot, cheese and egg in a large bowl.
Form the mixture into small-medium sized balls, then flatten into fritters.
Heat the coconut oil in a large, non-stick frying pan, and lightly fry the fritters in batches, a few minutes each side, until golden brown.
In a small bowl, combined the yoghurt with the juice of the lemon and stir.
Serve the fritters with a dollop of the lemon-yoghurt on top, a small garnish of parsley, alongside a small amount of rocket.
Serves: 2. Calories per serve: 369
Need to stock up on Healthy Mummy Smoothies? Then see our shop here
And join our 28 Day Weight Loss Challenges here