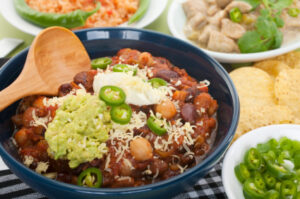 If there's one type of cuisine that takes the cake as one of my absolute favourites of all time, it would have to be Mexican.
There's something about the delicious flavours and textures that make it a delicious lunch or dinner. Unfortunately, many Mexican dishes aren't exactly great for weight loss. 
All that cheese and sour cream is chock full of the extra calories that we try to avoid when we want to lose weight. 
That doesn't have to mean however that Mexican food is off the menu completely. The key ingredients that form the base of many mexican dishes (rice, beans and chopped tomatoes with herbs) are healthy and reasonably low in calories, it's the other stuff that we add in (and the serving sizes of some of the food) that ends up tipping the scales in the wrong direction.
These yummy burrito bowls combine all the healthy ingredients but leave out or minimise those that add extra calories, salt and fat. Let's take a quick look at some of the ingredients you'll find in these bowls.
Brown rice – Brown instead of white is an excellent, low GI carb that fills up our tummies, while keeping blood sugar stable.

Beans – Beans are a great source of protein and fibre and are low in calories and fat.
Tomatoes – Tomatoes are rich in antioxidants and fibre.
Avocado – Packed full of good fats, avocado gives a creamy taste and texture to these burrito bowls.
We have used chicken as our chosen meat source in this recipe but you could also use beef or even tofu if you fancied something different.
Enjoy!
Ingredients
500g chicken breast, diced

420g can kidney beans, drained and rinsed
2 cups diced tinned tomatoes
4 cups of brown rice, cooked according to packet instructions
1/2 cup reduced fat cheddar cheese, grated
2 ripe tomatoes, diced
1 onion, diced
1 avocado
1 lime
1/2 jalepeno pepper (optional)
1 tbsp coriander, chopped
3 tbsp low fat Greek yoghurt
2 tsp cumin
2 tsp paprika
1 tsp sea salt
1 tsp black pepper
1 tbsp olive oil for the frypan
Directions
In a ziplock bag, mix spices and salt and pepper together and add chicken
Shake bag around to coat chicken in spice mix
Heat a large frypan over medium heat
Add olive oil and allow to coat the pan
Pour chicken into the pan
Add onion
Cook, stirring frequently
When chicken has started to brown, add the beans and tinned tomatoes to the pan
Keep stirring and allow mixture to heat through and thicken
Remove from heat and set aside to cool slightly
Divide cooked rice between four bowls
Spoon chicken mixture over the top of the rice
In a small bowl, mash avocado and add the juice of the lime
In a second small bowl, combine tomato with coriander
Divide both avocado and tomato mixture amongst the four bowls
Dollop on Greek yoghurt and scatter over grated cheese
Serve while hot
Makes 4 servings – Cal per serve – 550