Usually, when we think about 'biscuits' we immediately move them straight to the 'not to be eaten' list. When you are trying to lose baby weight or follow a healthy eating plan, treats that are traditionally packed with sugar, butter and, at least in the shop bought variety, artificial colours and flavours are definitely off the menu.
It all comes down to choosing the right recipes. Arming yourself with plenty of healthy, nutritious alternatives to standard recipes with help you to stay on track.
These cute and delicious little gingerbread people are just that AND baking them is the perfect activity to do with the kids.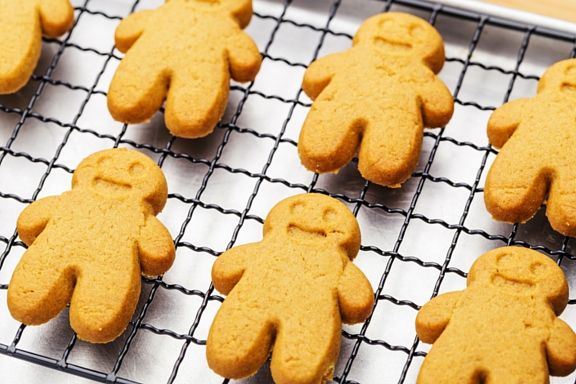 These delicious gingerbread people are made using wholemeal flour (instead of the processed, white version) and are refined sugar free. They use a combination of juicy, in-season dates and a little bit of honey for sweetness, along with all those delicious spices that give gingerbread it's distinctive taste.
Ingredients
2 cups of plain, wholemeal flour

1 cup almond meal
1/4 cup unsalted butter, cubed (for a dairy free alternative, you could use olive or coconut oil)
1/4 cup honey
5 large dates, pitted (Medjool are a great choice as they are naturally sweet and delicious)
1 egg
1 tsp baking powder
1 tsp ground cinnamon
1 tsp ground ginger
1/2 tsp allspice or nutmeg
 1/2 tsp vanilla extract
Directions
In a large mixing bowl, combine flour, almond meal, baking powder and the spices

In a second bowl, combine the butter cubes (or oil), honey, dates, vanilla and egg. Using a hand blender, blend ingredients until well combined. Alternatively, use a food processor or blender.
Add the butter mixture to the flour mixture and mix well to combine.
Turn the dough out onto a clean surface and roll out till it's around an 1/8 inch or 3mm thick.
Line a baking tray with baking paper and place dough onto tray.
Cover with another piece of baking paper and place in the fridge to firm up.
Just before removing from the fridge, pre-heat the oven to 150C
After an hour, remove from the fridge and use your gingerbread cutter to cut the dough into shape.
Return to the lined baking tray and place into the oven
Bake for 15-20 minutes, checking regularly.
When starting to turn golden brown, remove from the oven and set aside to cool.
Makes 25-30 biscuits – Cal per biscuit – 82
Get baking and have a competition with the kids to see who can decorate the best little person!!