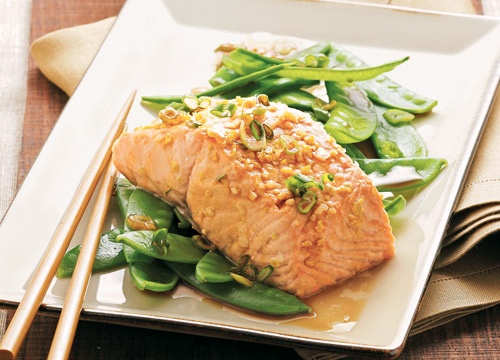 Having enough protein in your post pregnancy diet plan is important to encourage muscle recovery after the rigorous but rewarding experience of giving birth to your lovely baby.
Fish is great as a healthy and rich source of protein that also contains iron and omega 3 fatty acids that are so important for a new mum'srecovering body.You will need iron to help regain your zest and energy, and omega-3 fatty acids can help you lose weight and reduce the risk of heart disease.
The omega-3 fatty acids found in fish are also amazingly good for regulating and reducing total blood cholesterol and are known to help prevent cancer.
Fish can also help prevent postpartum depression as researchers found that women with higher levels of omega-3 fatty acids experience lower levels of depression.
Of course, there are plenty of ways to cook a fish and steaming is much healthier than having it battered and deep fried. Steaming also preserves the delicate flavours of the fish and has a lower calorie count compared to fried fish. So, for a satisfying and low-calorie post pregnancy diet meal, try out this Steamed Fish with Snow Peas recipe that is packed with a spectrum of flavours and nutrients.
Preparation time: 10 minutes.
Cooking time: 12 minutes.
Total: 22 minutes.
Ingredients:
4 skinless salmon or other fish fillets (4-6 oz), 1 ½ inches thick
1 teaspoon of grated ginger
1 clove garlic, minced
1 tablespoon of fresh lime juice
2 teaspoons of reduced sodium soy sauce
1 teaspoon of toasted sesame oil
2 scallions, thinly sliced
450 grams of snow peas
Directions:
Marinate the fillets by rubbing them with ginger and garlic. Leave the marinated fillets in the fridge for 10 minutes to let the flavours soak in.
Prepare a steamer basket and coat it with cooking spray.
After the fish has marinated, place it in the basket.
Then, in a saucepan, bring about 600-800ml of water to a boil. Place the steamer basket in the saucepan and cover the basket.
Steam for approximately 8-10 minutes. Times may vary according to the amount of water in the saucepan and the level of the fire.
While waiting for your fish to cook, prepare the sauce by combining lime juice, soy sauce, sesame oil, and scallions in a small bowl.
After 8 minutes, put the snow peas on top the fish and cover the basket. Steam for another 4 minutes till the fish fillets and snow peas are cooked.
To serve, spread out a bed of snow peas on a plate, top it with the fish fillets and drizzle with sauce.
This is a super quick and easy meal to prepare and it gives you the multitude of nutrients that you need to optimise your weight loss plans.  Also, serve with a bowl of brown rice and experience the wonderful flavours of this tantalising low-fat dish!
Have a look at other recipes and ideas for a quick and healthy post pregnancy meal. If you are ready to lose weight then the Lose Baby Weight plans offer a healthy and safe exercise and diet routine. And don't forget to check out our current promotions and discounts page to see what specials we have on this week on our Healthy Mummy product range