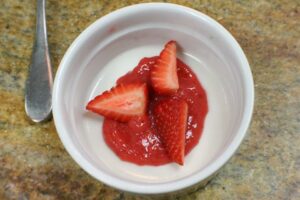 If you avoid dairy in your diet or have an allergy to dairy here is a great recipe for dairy free panna cotta which is a great treat to have on your healthy eating plan or if you need a little treat whilst on your Lose Baby Weight pregnancy weight loss plan

Plus Panna cotta is one of the tastiest puds there is – rich and creamy, and you can now make it dairy free!
Ingredients
500ml soy milk
3 level tsp. powdered gelatine (unflavoured) + 3 tbsp. water
2 x tbsp of honey or natural sweetener
Zest of 1 lemon and 1 orange
1 tsp. vanilla extract
Directions
Sprinkle the gelatine over the water and leave to sit for 5 minutes.
Combine the soy milk, honey, lemon zest, orange zest and vanilla extract in a saucepan. Heat until the mixture just comes to the boil then remove from the heat.
Stir in the gelatine mixture until evenly distributed and then leave to cool for 10 minutes. Strain the mixture through a sieve to remove any lumps of gelatine into 4 ramekins, then leave to cool in the fridge for at least 2 hours before serving and serve with fresh fruit such as berries or passion fruit.
Recipe serves 4. Calories per serving: 148, fat per serving: 2g. If you like, you can just use orange zest OR lemon zest, or you could use lime zest and a drop of coconut milk for a tropical pud.
And don't forget to check out our current promotions and discounts page to see what specials we have on this week on our Healthy Mummy product range