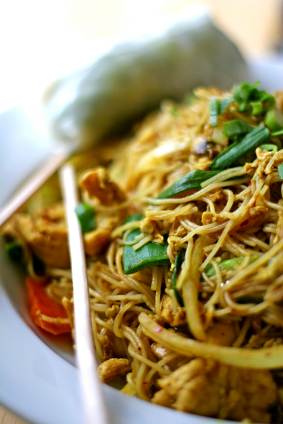 If you are a fan of take away noodles as a quick and easy meal, you're in for a treat.
Today we have a recipe for making your own veggie packed noodles at home which:
use much less oil than a take away joint
contain none of the sugar that they sneak in
have no MSG or other additives that bloat your tummy, and
are about one quarter of the cost!
This recipe could definitely be tailored to your tastes. Add some chicken breast or beef fillet for a protein hit.
Toss in your favourite Asian greens (bok choy is a good one) or baby corn.
It's worth trying out different curry powders if you get the chance.
A really nice one is the Ayam brand which is often available in Asian supermarkets or delis.
It is such a good spice mix to keep in the pantry for stir fries or for making your own curry base.
Did you know that Ayam curry powder contains 11 different spices? It's true!
Coriander, chilli, aniseed, cumin, turmeric, cinnamon, star anise, pepper, fenugreek, nutmeg and cardamom. No wonder it tastes so good!
Ingredients:
200g Singapore Noodles
1 tbsp olive oil
1 garlic clove, finely sliced
1 red capsicum
1 tbsp curry powder
½ cup vegetable stock
1 tbsp soy sauce
3 spring onions
1 red chilli, finely sliced, to serve (optional)
Method:
Cook the noodles according to the packet directions; drain and then set aside.
Heat the oil in a large frying pan over med-high heat.
Add the garlic and capsicum and stir fry for 3 minutes.
Add your curry powder and continue to stir fry for another 2 minutes.
Pour in the stock and soy sauce and bring to the boil.
Add the spring onions and keep stirring for another 2 minutes until it all comes together.
Sprinkle the chilli (if using) over the top before serving.
Serves: 4. Calories per serve: 160.

GET YOUR 10% DISCOUNT
If you are ready to lose weight then the Lose Baby Weight plans offer a healthy and safe exercise and diet routine and you can get a 10% discount by using code LOYALTY at the checkout
PLUS our BEST SELLING 28 Day Diet & Exercise Plan has now launched as an 84pg Printed Book and you can get your copy here 
Click HERE to see our shop