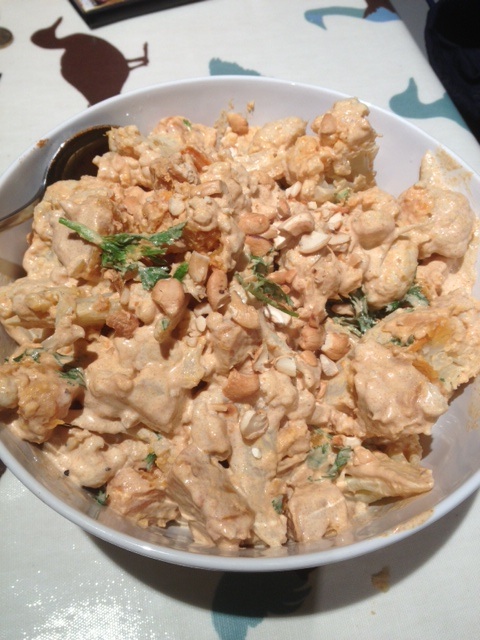 This is one of those super simple recipes that you can just throw together in no time at all.
We love using good quality curry powder in recipes as it is a fat free and low calorie way to pack in loads of flavour.
Many curry powders have more than 10 spices in there, so it's no wonder they taste so amazing.
This dish also works well as cold leftovers the next day – it tastes a bit like a healthy potato salad.
You could also serve it without the chicken for a vegetarian option.
You could consider throwing in a tin of chickpeas for your protein component.
Ingredients:
1 double chicken breast
1L water (or you could use chicken stock for extra flavour)
1 medium sweet potato, peeled
½ a cauliflower, cut into florets
5 tbsp Greek or natural yoghurt
2 tbsp low fat mayonnaise
1 tbsp curry powder
Salt and pepper to taste
Small bunch of coriander, to serve
Handful of crushed cashews, to serve
Lemon wedges, to serve
Method:
Bring the litre of water or chicken stock to the boil.
Cut the chicken into bite sized chunks and add to the pot.
Bring to the boil and then reduce the heat, poaching the chicken for around 15 minutes.
Pull apart one piece of chicken to check that it's cooked through. Set aside.
Meanwhile bring another large pot of salted water to the boil.
Cut the sweet potato into bite sized chunks and add to the boiling water.
Cook for around 6 minutes, then add the cauliflower florets.
Cook for a further 6 minutes and then drain and set aside.
To make the sauce, combine the yoghurt, mayonnaise, and curry powder in a small jar or bowl.
Combine the chicken and veggies in a large serving bowl and pour the sauce over the top. Stir to combine.
Season to taste and sprinkle with fresh coriander leaves and crushed cashews.
Serve with lemon wedges.
Serves: 4. Calories per serve: 250.

GET YOUR 10% DISCOUNT
If you are ready to lose weight then the Lose Baby Weight plans offer a healthy and safe exercise and diet routine and you can get a 10% discount by using code LOYALTY at the checkout
PLUS our BEST SELLING 28 Day Diet & Exercise Plan is available as a 200pg Printed Book and you can get your copy here 
Plus our NEW CALORIE BIBLE is now available – get your copy today! Only $19.95 and a must have in your handbag!
Click HERE to see our shop