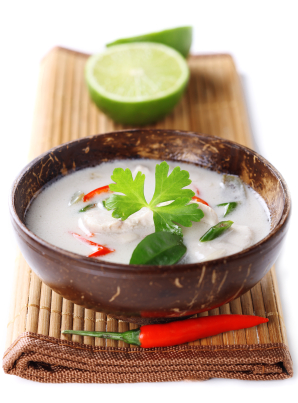 Don't let the unusual look of this soup deter you from trying it. The flavours are sensational – a real whack of spicy, sour and sweet all in one steaming hot bowl.
The aromatic blend of lemongrass, ginger, chilli and lime brings this wholesome soup to life.
There's no need to order take away when you can make your own Thai-style soup at home.
If you haven't used lemongrass in your cooking before, you're in for a real treat. Lemongrass makes a regular appearance in Thai cooking and you may well recognise the flavour from there. It has flavours of lemon as well as a subtle onion flavour too.

Ingredients:
2 lemongrass stems, white ends only
2 green shallots, trimmed and finely chopped
100g button mushrooms, cut in half
2 chicken breast fillets, thinly sliced
1L of chicken stock (try to use salt reduced if possible)
5cm piece of ginger, peeled and sliced into matchsticks
1 carrot, peeled and sliced into matchsticks
1 red chilli, thinly sliced
400ml tin of coconut milk
2 tbsp fish sauce
Juice of half a lime, plus wedges to serve
Small bunch of mint leaves and Thai basil leaves, to serve
Method:
Use the back of a heavy knife to bruise the lemongrass stems and then and cut each one in half.
Heat a large saucepan over med/high heat and add the shallots, chicken stock, lemongrass, ginger, carrot and chilli.
Bring to a gentle simmer and then add the chicken, mushrooms and coconut milk.
Simmer gently for 5 minutes, stirring regularly, until the chicken is cooked through.
Add fish sauce and lime juice.

Ladle the soup into bowls and serve with the lime wedges and some mint and basil leaves on top.
Serves: 4. Calories per serve: 265.

GET YOUR 10% DISCOUNT
If you are ready to lose weight then the Lose Baby Weight plans offer a healthy and safe exercise and diet routine and you can get a 10% discount by using code LOYALTY at the checkout
PLUS our BEST SELLING 28 Day Diet & Exercise Plan has now launched as an 84pg Printed Book and you can get your copy here 
Click HERE to see our shop