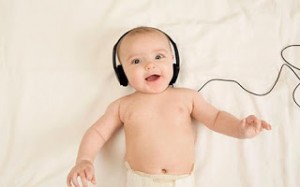 Music is a truly magical form of art that evokes good feelings and fond memories. Every time a good beat strikes your heart, you can't help but to dance to it or sing along with it.
The wide array of emotions that we feel from music only confirms that it is an immensely powerful medium that can connect us with our inner selves or with like-minded people.
Music is absolutely great for you because it can help to motivate you to keep working on your post pregnancy exercise plan. But it also has been scientifically proven that music helps with brain function and it can help improve your little one's overall development.
A lot of people say that by allowing your baby to listen to classical music, they will grow-up to be very smart in the future. Can music really make your baby smarter? Not exactly…but it does help to boost spatial reasoning, an ability to visualize with the mind's eye.
Numerous studies have shown that people who listen to classical music can complete spatial reasoning tasks in a quicker time. Not only that, additional research also revealed that classical music has great ability to help sharpen social skills, mood and various other cognitive functions.
The complex structures of classical music by composers such as Bach, Mozart, Chopin and Beethoven triggers our brain's ability to solve spatial problems by as much as 30%. However, researches have also said that listening to classical music only boosts this ability for about 10 – 15 minutes. But learning how to play a musical instrument can lead to long-term spatial reasoning.
So, what exactly can you do to help encourage your baby's development?
Play music for your baby
A 3 month old baby has the ability to understand classical music but you may also try adding in different styles of music to expose them to different emotions. Generally, any type of 'feel good' music can help with your baby's development.
Sing to your baby
Singing not only gives your baby the pleasure of listening to your soothing voice, it helps them to understand language at a younger age whilst having fun!
Sing with your baby
Your baby will absolutely love singing along with you and most importantly, it'll encourage the bond between the two of you. Although they might not understand the sweet words that you are singing, they still have the ability to capture the rhythm and melodies of the songs that you sing to them.
Early music lessons
When your child learns to play a musical instrument, it will help with brain and motor skills development. It is absolutely beneficial to start playing instruments at a young age because their mind is still fresh. They are only beginning to create familiar patterns and pathways that will make a lasting impression on their young minds.
Now that you know the benefits of classical music for your baby's early development, just pick a couple of songs from your favourite composer and let your baby experience the mysterious wonders of music!
If you are ready to lose weight then the Lose Baby Weight plans offer a healthy and safe exercise and diet routine.
GET YOUR 10% DISCOUNT
If you are ready to lose weight then the Lose Baby Weight plans offer a healthy and safe exercise and diet routine and you can get a 10% discount by using code LOYALTY at the checkout.