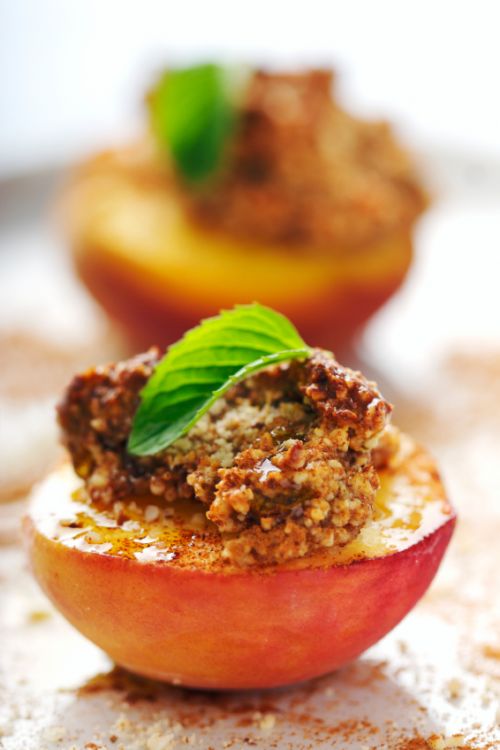 Desserts that incorporate fruit are a good option to include in your healthy eating plan when you are trying to lose pregnancy weight.
Fruit contains natural sugars which will satisfy sweet tooths. Fruit also contains fibre, vitamins and minerals, so you're getting some nutritional benefits that most other dessert options don't offer.
This recipe for Cinnamon Almond Baked Peaches gets its natural sweetness from the peaches, honey and the cinnamon – not refined sugar.
You might want to try this recipe for a special occasion, when entertaining friends or just as a nice weekend indulgence or weeknight treat.
Ingredients:
4 ripe peaches
4 dates, chopped
1 teaspoon of cinnamon
3 tablespoons of honey
Quarter of a cup of almonds, finely chopped
Mint leaves, for presentation
Optional Extras:
Serve with a side of natural Greek yoghurt
Use walnuts or hazelnuts instead of almonds
Use maple syrup or agave syrup instead of the honey
Sprinkle a little LSA on top at the end
Method:
Preheat the oven to 190 degrees Celsius.
Cut peaches in half, remove the stone and place them fleshy side up in a deep baking dish or tray.
In a bowl, mix the finely chopped dates, almonds, honey and cinnamon together until combined.
Fill each peach with the almond honey mixture.
Pour a little water into the bottom of the baking dish so that the water is about a centimetre up the side of the dish. This prevents the peaches from drying out when baking.
Bake for 20 to 25 minutes, or until the peaches are golden brown.
Once cooked, serve warm with a light dusting of cinnamon and a mint leaf for presentation.
Serves: 4. Calories per serve: 179
Need to stock up on Healthy Mummy Smoothies? Then see our shop here
And join our 28 Day Weight Loss Challenges here