Is your family stuck in a rut when it comes to eating the same fruit and nuts, perhaps not even eating seeds at all?
These bite sized treats can be made many different ways to ensure your family is getting health benefits from everything they eat, including treats, while providing a tasty opportunity to experiment with different varieties of fruit, nuts and seeds.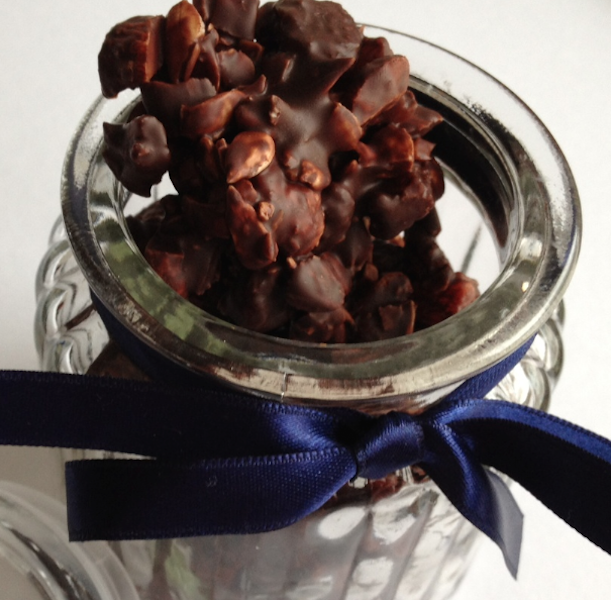 If you are eating these the same day you can try fresh fruit instead of dried (which will also reduce the calories), or experiment with different nutritious ingredients like pumpkin seeds, sunflower kernels, chia seeds or exotic fruits and even vegetables! It's an easy and fun way to expand your family's taste buds.
These can be stored in your pantry to enjoy as a family treat, but they also make great gifts or party favours when placed into small gift bags or boxes. They can also be made dairy-free by using dairy-free chocolate or nut-free by adding more fruit and omitting nuts! If there are allergies to any particular ingredients these can cater for pretty much anything. The variations are endless!
The coconut oil stops the chocolate from going dry in the saucepan, and also means you don't have to muck around using a bowl on top of the saucepan. We have occasionally used olive oil in melting chocolate and that also works.
 Ingredients
4 tsp Coconut oil (20ml)

2 Cups Mixed dried fruit, nuts and seeds

75g dark chocolate
 Method
1)       Line a large baking tray with baking paper
2)       Add chocolate and coconut oil to non-stick saucepan and stir over low heat until melted
3)       Add in dry ingredients and stir until well combined.
4)       Spoon onto baking paper and refrigerate until set.
Serves 25 – 81 cal / 340kj per serve
GET YOUR 10% DISCOUNT
If you are ready to lose weight then the Lose Baby Weight plans offer a healthy and safe exercise and diet routine and you can get a 10% discount by using code LOYALTY at the checkout
PLUS our BEST SELLING 28 Day Diet & Exercise Plan is available  and you can get your copy here 
Plus our NEW CALORIE BIBLE is now available – get your copy today! Only $19.95 and a must have in your handbag!
Click HERE to see our shop