Pregnancy weight loss is a tough challenge for most women, that's why little treats need to be incorporated into your healthy eating plan, to keep you full, motivated and satisfied.
Desserts and snacks do have their place within your weight loss plan, and with the right knowledge, ingredient list and recipes, you can whip up fresh, healthy, nutritious snacks and desserts that won't derail your goals.
This recipe for a Choc-Berry Chia Pudding is packed with antioxidants and essential fatty acids that comes from chia seeds and is made without refined sugar or white flour, getting its sweetness from honey, cocoa and cinnamon instead.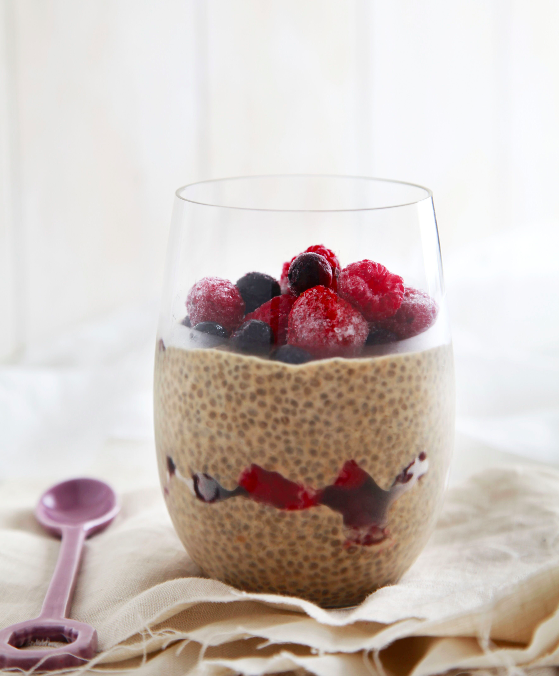 Ingredients:
1 cup of almond milk
Half a cup of light coconut milk
1/4 cup chia seeds
2 tablespoons cacao or cocoa powder
A pinch of cinnamon
1 tablespoon honey
A few fresh blackberries, as a garnish
Optional Extras:
Strawberries, raspberries or blueberries can be used instead of blackberries
Add a dash of vanilla extract for a vanilla taste
Skim milk, rice milk or oat milk all can be used instead of the almond and coconut milks
Chopped almonds, macadamias, dates or walnuts can be added as a topping
Method:
Briskly stir all the ingredients together in a bowl (or shake in a jar) except for the blackberries.
Once all the ingredients are very well combined, refrigerate in a sealed contained or jar for a minimum of 3 hours (overnight is best).
Every few hours or so check the mixture to ensure it hasn't separated too much (stir if necessary).
Remove from the fridge and serve chilled in little bowls, with fresh blackberries as a garnish
Serves: 2. Calories per serve: 315
About the 28 Day Challenge