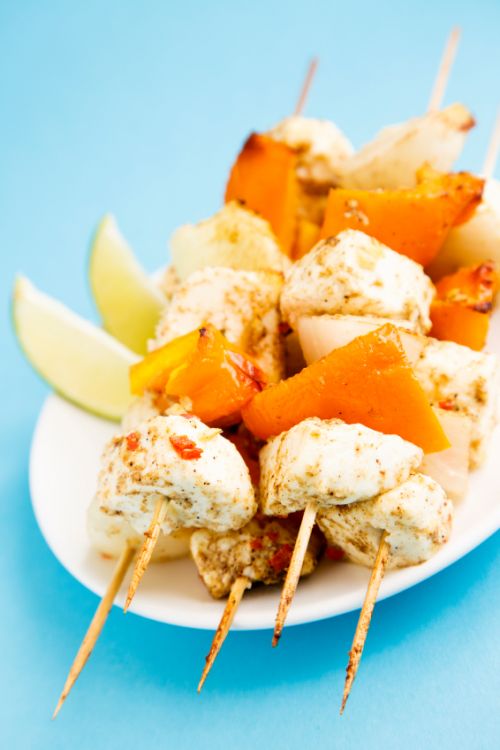 Protein plays a key part in your healthy eating plan as it gives you energy and keeps you feeling full, with foods like chicken, beef, fish and turkey all being high in protein.
While these lean meats are an excellent source of protein, you can also find protein in many other foods suitable for use in weight loss recipes.
Cheese, eggs, tofu and nuts are all good sources of protein appropriate for vegetarians or people who want to have a break from eating meat a few nights a week.
This recipe for Chilli Lime Vegetarian Skewers uses paneer as its base. A popular ingredient in Indian cuisine, paneer can usually be located near the feta and halloumi cheeses in most major supermarkets.
High in protein, vitamin D and calcium, paneer can be added to curries, soups and warm salads. While quite bland in flavour on its own, paneer absorbs other flavours well, making it a good ingredient to marinade.

Ingredients:
1 red capsicum (approximately 120 grams), seeds removed and flesh cut into large squares
200 grams paneer cheese, cut into large cubes
1 brown onion, diced into large cubes
Juice of one lime
One lime, cut into quarters (for serving)
Cracked pepper
1 tablespoon crushed ginger
1 tablespoon olive oil
1 red chilli, deseeded and finely chopped

Optional Extras:
Replace the onion with mushrooms
Thread some zucchini pieces onto the skewers
Replace the chilli with minced garlic for a milder flavour
Use haloumi cheese instead of paneer
Method:
Soak the wooden skewers in water for an hour prior to using.
In a large bowl, combine the oil, ginger, chilli, cracked pepper and lime juice, then add the onion chunks, paneer cubes and capsicum to the bowl and coat.
Cover the bowl and place in the fridge for a minimum of one hour to marinade.
Take the wooden skewers and thread a piece of onion, then a piece of capsicum, then a piece of paneer onto the skewer.
Repeat the process until all the ingredients have been used.
Place the skewers under a hot grill or on a barbecue and cook, turning occasionally until the ingredients are cooked and golden. This should take about 10-12  minutes on medium heat.
Serve immediately with some lime slices.
Serves: 2. Calories per serve: 333
Need to stock up on Healthy Mummy Smoothies? Then see our shop here
And join our 28 Day Weight Loss Challenges here