Losing weight after pregnancy needs to be done in a safe and sensible way. Crash diets that are overly restrictive tend to result in blood sugar spikes and low energy levels.
While walnuts are a high calorie food item, you can enjoy them in moderation and include them in your healthy eating plan. As a natural, unprocessed food walnuts are a good source of Omega 3 fats, Vitamin E and Manganese.
Quick and easy to make, and packed with nutritious ingredients, salads are your friend when you're trying to lose pregnancy weight. Whether you're having them for lunch or dinner, as a main meal or a side, salads significantly boost your daily fibre, vitamin and mineral intake.
Sometimes it's easy to get into a salad rut and keep making the same salads, using the same ingredients. To keep yourself motivated and interested in losing weight, don't be afraid to inject different fruits, nuts and seeds into your salads.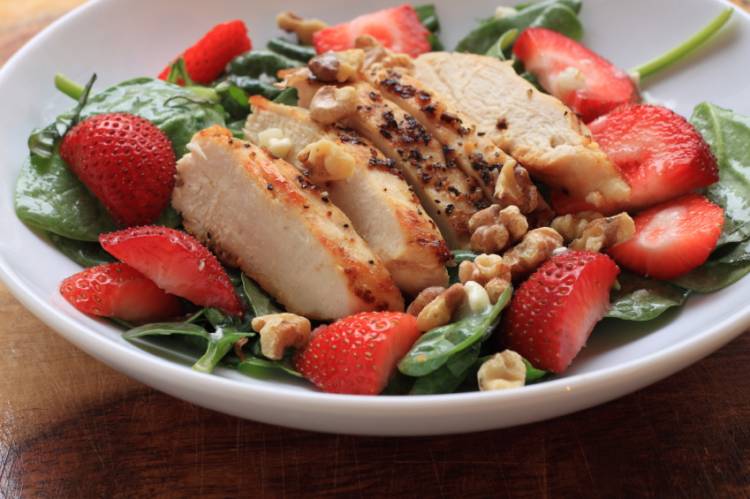 Nuts have a low GI, meaning that they will keep you feeling fuller for longer and give you energy to keep you active throughout the day. Include nuts in your diet as snacks, or add them to recipes like this one!
Ingredients:
Half a chicken breast, skin off
8 strawberries, halved
6 walnuts
1 large handful of baby spinach leaves
1 x squeeze of lemon
Cracked pepper
Marinade Ingredients:
3 tablespoons of olive oil
1 x clove of crushed garlic
Zest of half a lemon
1 teaspoon of oregano
Optional Extras:
Switch the chicken breast for turkey breast
Cos lettuce can be used instead of baby spinach leaves
Add cucumber or celery for added nutrients
Natural, untoasted almonds could be used instead of walnuts
Method:
Pound the chicken breast with a meat mallet so that it is thin and even
Combine the olive oil, garlic, lemon zest and oregano in a bowl.
Place chicken in the bowl and allow to marinade in the fridge for a minimum of 4 hours.
Grill the chicken breast on an oiled grill, on medium heat until crispy and browned on the outside, and cooked in the middle. This should take 4-5 minutes per side.
While the chicken is grilling, place the spinach leaves on a plate
Arrange the strawberries and walnuts on top of the spinach
Once the chicken is cooked, slice into pieces and add to the salad
Top with cracked pepper and a squeeze of fresh lemon
Serves: 1. Calories per serve: 378
GET YOUR 10% DISCOUNT
If you are ready to lose weight then the Lose Baby Weight plans offer a healthy and safe exercise and diet routine and you can get a 10% discount by using code LOYALTY at the checkout
PLUS our BEST SELLING 28 Day Diet & Exercise Plan is available as a 200pg Printed Book and you can get your copy here 
Plus our NEW CALORIE BIBLE is now available – get your copy today! Only $19.95 and a must have in your handbag!
Click HERE to see our shop