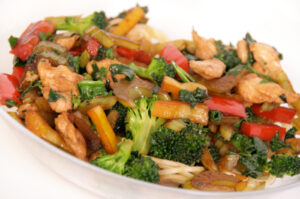 Stir fry's would have to be one of the best lunch or dinner options when you're losing weight or trying to eat healthily. Not only are they super quick and easy to prepare but the fresh and colourful ingredients are packed full of nutrients. Fitting in a variety of different veggies can be a challenging part of a new, healthier diet. We are encouraged to eat a minimum of five servings of veggies per day, but many of us struggle to eat two, let alone five! A stir fry is an easy way to up your greens (and oranges, reds and yellows) with minimum effort.
A variety of yummy veggies work well in stir fry and choosing a range of different colours and textures means you'll be getting a healthy hit of vitamins, minerals and antioxidants, especially from leafy greens and darker coloured ingredients.The meat found in your typical, home-made stir fry is also a winner. Lean chicken breast or beef strips, even pork with the fat removed, all work well and are full of protein to fill your tummy and keep blood sugar levels stable. The way you cook your ingredients when stir frying; in a small amount of oil and at a high temperature also means that the flavour is sealed into the meat, leaving it tender and tasty, without the need for calorie laden sauces.
This recipe combines chicken breast with a whole range of veggies and flat rice noodles which means you're getting a good mix of complex carbs and protein. This dish is especially good for little ones who like feeding themselves as the noodles, veggies and meat are the perfect size for small fingers to pick up. We've used broccoli, red capsicum, spinach and mushrooms but you can add whatever veggies your family enjoys.
Ingredients
500g rice noodles (wide or thin)
1 tbsp sesame oil
500g chicken breast fillet, thinly sliced
250g button mushrooms, roughly chopped
¼ cup salt reduced oyster sauce
1 tbsp fish sauce
2 tspn sambal oelek (can be found in the Asian food aisle of most supermarkets)
250g broccoli, broken into florets
100g red capsicum, diced
1/2 cup baby spinach leaves
Directions
Cook noodles according to packet instructions then set aside
Heat sesame oil in a wok or large fry pan over high heat
Cook chicken in two batches to ensure it cooks evenly
When cooked through set aside and cover to keep warm
Add broccoli, capsicum and mushroom to the wok and stir fry for 2-3 minutes until just tender (don't overcook)
Return chicken to the wok with noodles, sauces and sambal oelek
Stir fry till heated through
Remove from wok, stir through spinach and serve
Makes 4 servings – Cal per serve – 265
GET YOUR 10% DISCOUNT
If you are ready to lose weight then the Lose Baby Weight plans offer a healthy and safe exercise and diet routine and you can get a 10% discount by using code LOYALTY at the checkout.