As a busy new mum, any weight loss programs you do should be properly supplemented by the right nutrients which provide you with sufficient energy while giving you the lowest possible calories.
Creating this intricate balance might sound tricky, but understanding the details that transform your recipe from regular to healthy can simply mean changing some details in your cooking methods.  Weight loss recipes are usually simple tasty recipes with proper ingredient substitutes in the right amounts.   These provide the balance between having the right taste, the proper nutrients, and the desirable calories needed by active mums.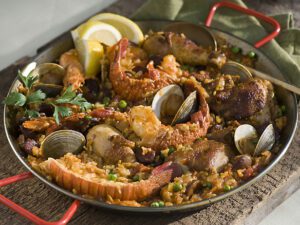 One of our favourite dishes is paella, which is a tasty Spanish rice dish that originated in the mid-19th century in Valencia Spain.   Many would view paella as Spain's unofficial national dish and is usually served in Spanish restaurants across Australia.
The secret of the paella's taste and richness is using the right stock.  Slowly cooking the rice in fresh and organic stock brings its distinct flavour and taste that you and your family will love.
Ingredients
6 boneless chicken breasts, preferably free-range or organic, skin on, each quartered
A small amount of sea salt and freshly ground black pepper to taste
plain flour, for dusting
olive oil
100g chorizo, sliced
6 slices lean ham
1 onion, finely chopped
4 cloves of garlic, finely chopped
2 litres hot chicken stock, preferably fresh or organic
2 large pinches of saffron
1 heaped teaspoon smoked paprika
500g paella rice
small bunch flat leaf parsley, leaves picked and chopped, stalks chopped
2 handfuls peas, fresh or frozen
10 king prawns or 5 large Tiger Prawns
optional: 500g mussels, scrubbed
optional: 2 small squid, halved and scored


Method
Preheat your oven to around 190ºC. Season the chicken pieces and dust with flour. Heat a little olive oil in a large deep pan and fry the chicken until golden brown on both sides. Place the pieces on a baking tray and into the oven for 30 minutes.
Put the pan back on the heat. Add the sliced chorizo and pancetta or bacon and fry until browned and crispy. Then add the onion and garlic and cook until soft. Meanwhile infuse half the hot chicken stock with the saffron. Add the smoked paprika, rice and infused stock and leave to cook on a medium heat, stirring from time to time.
After 20 minutes the rice should be nearly cooked. At this point, pour in the rest of the stock along with the peas, prawns, and the mussels and squid if you are using them. Place a lid on the pan and cook for 10 minutes more.
Finally, add the cooked chicken and serve sprinkled with chopped parsley and a wedge of lemon.
Serves 6. Calories per serve 590
Notice the use of olive oil instead of vegetable oil, the conservative amount of salt and the use of chicken breasts instead of wings.  These small things actually do huge things for your health.
Also take note of the ratio between the ingredients and the rice.  This enables the dish to have just the right amount of calories and carbohydrates and balances it with proteins to give you energy in your daily activities and exercise routines bringing the balance of health, taste, and energy in your daily meals.
Follow our blog for more delicious recipes and exercise tips to help you lose weight quickly while improving your eating habits and helping you live a healthy lifestyle as you lose your baby weight.

Need to stock up on Healthy Mummy Smoothies? Then see our shop here
And join our 28 Day Weight Loss Challenges here